US based videogame retail chain GameStop has launched gamer-optimised tablets running Android operating system. The three different Android tablets are made by Samsung (Galaxy tab 10.1), Acer (Iconia 7) and Asus (EeePad Transformer).
These will have seven preloaded free games including Electronic Arts' Dead Space and Madden NFL, as well as GameStop's own Kongregate Arcade (a browser-based Android gaming app touting access to hundreds of free Flash-based titles) and Google's own Android Market app.
GameStop states it will sell the Android tablets at costs comparable to standard retail pricing. The company has also added a special code that will interact with an external wireless controller and will enable players to control four of the seven free games from across a room. The controller will be sold along with the devices for $39 (Rs 2000).
While these tablets won't be coming to India since Gamestop has no presence in the sub-continent, success of these tablets will definitely lead to introduction of similar concepts in India.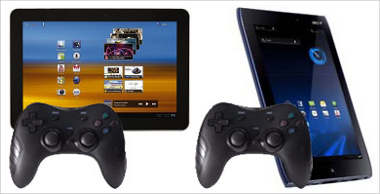 Indian mobile content industry is struggling, however companies like Spice has already tried the concept by preloading mobile applications on top of the tablets that it sells.
Similarly Jumpgames, Indiagames and some other players will be keen to partner with handset manufacturers to try this concept. Sony Ericssson has already launched the Xperia Play and other PSP certified games that comes bundled with games. Similarly, Nokia also tied up with Electronic Arts for bundling the later's games in its handsets. Closer home, Micromax is also trying the concept through phones like Gamolution and also is looking for a tie-up with EA.