Weeks after launching the 102-megapixel GFX100 medium-format camera, Fujifilm has announced the Instax Mini LiPlay instant camera. The LiPlay features a rear LCD screen along with sound recording capability, integrated filters and frames, smartphone printing and remote shooting capabilities, all for a price of $160 (approx. Rs 11,000).
The Instax Mini LiPlay comes with a 1/5 type CMOS primary colour filter image sensor which can output pictures of resolution of 2560 × 1920 pixels. The camera comes with an internal memory that can store 45 images at a given time as supports micro SD/micro SDHC memory cards. Approximately 850 images can be stored in a 1GB memory card.
The LiPlay comes with an ISO sensitivity of ISO100 to 1600 with automatic switching, single autofocus with AF Illuminator and an aperture of F2.0. the camera can shoot with a focus distance of 28 mm (35 mm film equivalent) and click pictures at shutter speeds ranging from /4 second to 1/8000 second. It comes with Program AE exposure control which varies between −2.0 EV and +2.0 EV (1/3 EV step).
Fujifilm has added the ability to record sound when shooting or playing back single image through the Instax Mini LiPlay and this audio clip can then be played upon pointing QR code embedded onto the image or video.
The instant camera comes with a print function which prints an image on the device on a standard Instax Mini instant print film. In addition to printing images taken with the camera, LiPlay's "Direct Print" function converts the camera into a smartphone printer. Users can use the Instax Mini LiPlay app on their phone to release LiPlay's shutter remotely through their smartphone, allowing perfectly timed images that can be printed on the spot.
LiPlay features a 2.7-inch TFT colour LCD monitor at the back as its viewfinder. There's a built-in battery which can last to up to 100 printed images on a single charge and the battery can be juiced back to full in 2-3 hours. The LiPlay camera measures at 82.5 mm × 122.9 mm × 36.7 mm and weighs 255 grams.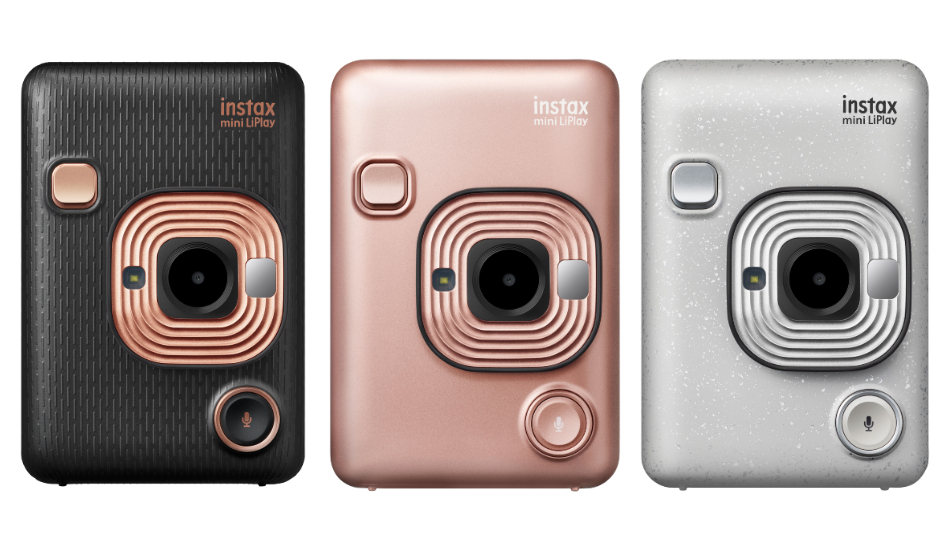 The Fujifilm Instax Mini LiPlay instant camera will be available in Stone White, Elegant Black and Blush Gold colours for an asking price of $160 (approx. Rs 11,000).