Notwithstanding its inability to deliver the Aakash as well as the UbiSlate tablets, Canadian manufacturer Datawind has now started the pre-booking of its newest tablet – the UbiSlate 7+.
"UbiSlate7+ is the next generation of UbiSlate7/Aakash which comes with upgraded features," Datawind said on its website.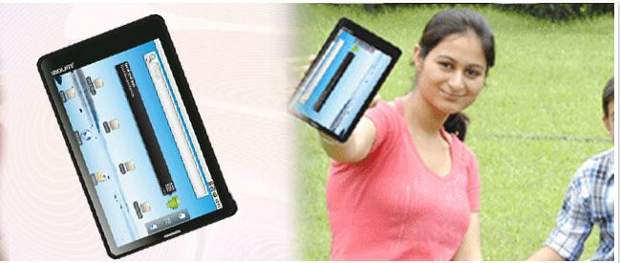 "You can connect to the internet using WiFi at any hotspot with Ubislate7/Aakash. Ubislate7+ gives the added option to connect to the internet anywhere using GPRS with a SIM card, along with the option to connect via WiFi at a hotspot. A monthly plan of Rs.99/- for 2GB of data usage will also be made available to customers," the company further explained.
So basically, the new tablet has same specification as UbiSlate7/Aakash but comes with added SIM and phone functionality.
Datawind last year announced the Aakash tablet which has been hailed as the cheapest Android tablet that is expected to revolutionise the tablet market. However, after repeated delays also, the company is yet to make this tablet available to users who have ordered it online last November itself. Interestingly, on its website, the company is still promising delivery of the tablet by January 2012.
"Aakash/ UbiSlate 7 devices are being delivered right now to customers, based on the order of their pre-booking. Datawind will continue to deliver to customers till stocks run out. If you have ordered an Aakash and have not received a delivery yet, please wait for Datawind to contact you via email/phone in the order your order was received. We expect to complete this process through the month of January," Datawind says. The company is also running an apology statement on its website (aakashtablet.com) asking people to have "patient".
The pre-booking of the new UbiSlate7+ has already been started, but Datawind is not promising any date for its delivery. On the other hand, Datawind has stopped taking orders of its earlier Aakash and UbiSlate tablets. To book the new UbiSlate7+, click here.
As its earlier version, UbiSlate7+ will come with Android 2.3 Gingerbread operating system, Cortex A8 700 Mhz processor, 256 MB RAM, 32 GB expandable memory, 3.5 mm jack for headset connection, and USB port. The 7 inch resistive touchscreen display bearing tablet will also be able to stream HD quality videos and will support WiFi, GPRS, besides the SIM calling function.