Flipkart has introduced a new Flipkart Ideas feature on its e-commerce platform in India. Flipkart Ideas will offer a curated selection of content to make shopping easier for customers and guiding them through their purchases.
Flipkart Ideas can be accessed from the hamburger menu on the left side of Flipkart's app homescreen tapping which users can select the type of content they might need guidance with. Users can choose from Gadgets, fashion, pets, parenting, travel, movies and music, self-improvement, arts and crafts, home and living, health and food.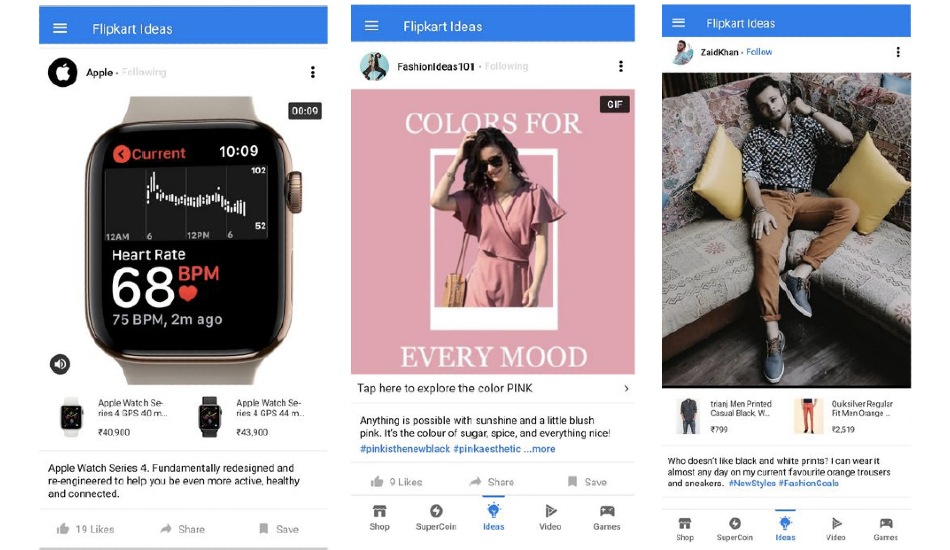 The move comes as a means to allow users to discover new products and brands through credible information. Essentially, through Flipkart Ideas, content from brands and influencers will be showcased with relevant products available on Flipkart. The page will contain images, videos, GIFs, stories, polls and quizzes on topics that a user chooses to view.
Flipkart says the content shown on Ideas will be posted by brands, trusted publishers, experts and influencers. The company claims that the launch will play a big role in bringing 200 million new customers online, which Flipkart says will primarily belong from tier-II and tier-III cities.
Speaking about the announcement, Flipkart Marketplace, Senior VP, Anil Goteti said "At Flipkart, the driving factor is to constantly improve our consumers' shopping experience. Flipkart Ideas improves users' lifestyle with credible, inspiring and useful content, which will educate and inspire them in the purchase journey. There are a new set of consumers, the next 200 million shoppers, who have a variety of questions and seek to mimic their offline shopping experience, online. Flipkart Ideas is our effort to aid these consumers' shopping journey, and we want to play our part in creating meaningful engagement while helping build familiarity with various brands and products".