Sony has extended its LiveWire series of products in India by introducing a new device – SmartWatch. The new Sony SmartWatch features a 1.3 inch OLED touchscreen display and is basically like a miniature extension of the smartphone display. Closely resembling the Apple iPod Nano (sixth generation,) SmartWatch is powered by Android and features Bluetooth 3.0. Sony SmartWatch currently retails in India for about Rs 6,299.
Wearable electronics are not really the future anymore because they are actually available now. Of course, there is a heavy initial cost of possession but they are aimed at folks who want gadgets that are simple to interact with and are lightweight or small in form.
A year ago, Sony Mobile had introduce LiveView which was intended to offer similar functionality. Sony took feedback about LiveView's shortcomings and introduced the new SmartWatch this year. SmartWatch acts as a watch for your wrist as it comes with a wrist strap. As of now, the company offers SmartWatch with a black wrist strap but soon it plans to introduce different funky colours.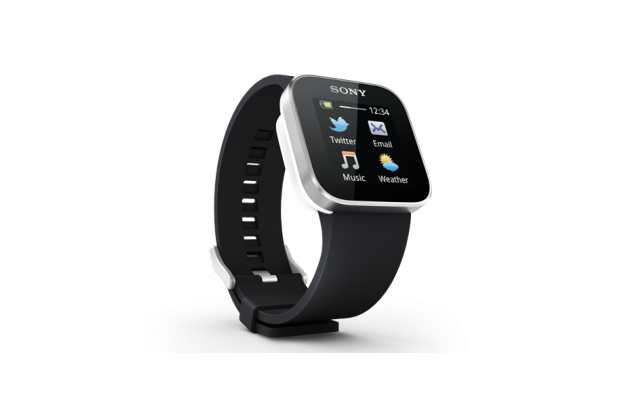 SmartWatch has an aluminium bezel with metallic power button. The rear of SmartWatch is made of plastic and it has a clip at the back which is used to clamp it to the black wrist strap that comes in the box. Sony loves proprietary ports and it is not a surprise that the SmartWatch features a different port for charging. The box bundles a charging cable for that port which connects to any micro USB charger.
The interface of SmartWatch is entirely touch and gesture-based. No, it does not beep or play music but it certainly alerts you about notifications by vibrating.
One needs to download and install LiveView Manager on the new range of Xperia NXT smartphone devices. LiveWare manager lets the user install and set up the notification settings for SmartWatch.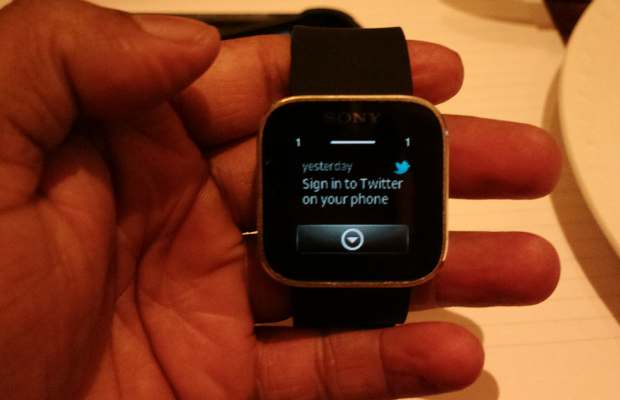 Once the app is installed on SmartWatch you will feel a vibration and then you can tap on the device to see notifications meant for your Xperia smartphone. Do note that Xperia series smartphones and other compatible devices connect with SmartWatch up to a range of 10 meters. However, the strange part is that if your smartphone's battery runs out, SmartWatch also shuts off.
Third party applications and about 60 plugins are compatible with the device.
You get to check text messages, email, calendar updates, social network updates and even control the phone's music player using a widget on the watch. Typically, SmartWatch can be used for about four days but extensive usage makes it run out in a day.
SmartWatch takes a while to get familiar with. For instance, a two finger touch on the screen takes the user out of the menu. Swiping up from down takes one to the apps menu and swiping right to left is meant for scrolling between installed apps.
Sony has promised to work on a way to make SmartWatch usable with a wider range of devices in the near feature. Though it is a bit heavy on the pocket, SmartWatch is one geeky thing to own.