Lenovo has introduced three new tablets in India &#151 ThinkPad, IdeaPad K1 and IdeaPad A1. Targeting there different category of audiences – two consumer class tablets and one enterprise, the company aims to please majority of the consumers who wish to possess a tablet of their own.
All the three new Lenovo series of tablets come in two version &#151 WiFi only and WiFi+3G models. At the launch event, we tested the new Lenovo tablets as well.
Lenovo IdeaPad A1 tablet
Deemed to be the mid-range killer tablet, the new Lenovo IdeaPad A1 tablet comes with 7 inch LED display capable of multi-touch. This display appeared better than any other 7 inch touchscreen display bearing tablet we came across so far.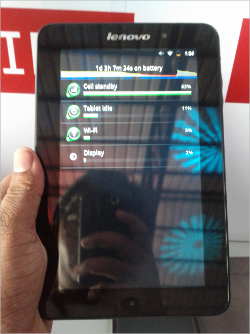 The IdeaPad A1 tablet is just about 12mm thick and appears bit heavy with 420 grams of weight. It felt heavy in the hand but one may get accustomed with the weight. One of the IdeaPad A1 units had an unresponsive screen. While the second one worked just fine but framed while jumping between windows and animations.
Lenovo IdeaPad A1 had the Android 2.3.x Gingerbread operating system running on it with Lenovo SocialTouch application which manages all social networking engagements in a single place. While scrolling through the different app icons and loading one, the tablet appeared quite slow and stuttering with its performance despite the fact that it has a single core 1 GHz Texas Instruments OMAP 3622 processor and 512 MB RAM.
By default, the display has 1024×600 native resolution support and though it had almost enough horse power, it may not play 720p HD video without stuttering. The front panel of the tablet had three capacitive buttons with backlight which would go off in less than three seconds. There was no fairly visible way to manage or control the timing of the backlight of those capacitive buttons.
There is a front facing 0.3 megapixel camera right next to the Lenovo log in the front which clearly states the portrait orientation and usage of this tablet. At the back lies a 3 megapixel camera which gave acceptable quality of imagery.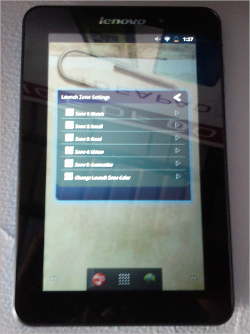 At the top was the 3.5 mm audio port next to the On/Off button. While at the bottom, there was a micro-USB port located with micro SD card slot with a cap-cover. The IdeaPad A1 tablet gave good feel in hand and was quite smooth.
Wireless connectivity options like WiFi and Bluetooth were already present in the tablet. Lenovo offers IdeaPad A1 in two models &#151 16 GB WiFi only model for Rs 14,990 and 16 GB WiFi+3G model for Rs 16,990.
Lenovo IdeaPad K1 tablet
Lenovo IdeaPad K1 is yet another consumer segment tablet albeit with high end hardware and Android 3.1 Honeycomb OS running on it. When it comes to hardware muscle, the IdeaPad K1 has a dual-core 1.0 GHz Nvidia Tegra T20 mobile processor with 1 GB DDR2 memory and 16 GB on-board storage.
The IdeaPad K1 has rounded borders and textured back for better grip. Users will be offered four different colors &#151 red, black, white and brown to choose which one will be at the K1's back. This tablet measures 12.7 mm thickness and weighs about 775 grams (1.7lbs) which appears bit heavy on the hand to hold.
Lenovo has used 10.1 inch HD Glare touchscreen with IPS panel technology to suffice the need for more real estate. By default, the display supports 1280×800 resolution which means it is capable of running 720p HD video content smoothly.
The IdeaPad K1 has a home button which when pressed shows two backlights appearing on each side in the portrait mode. Meanwhile, there is a 2 megapixel camera on the right hand side of the tablet along with a 5 megapixel camera at the back that comes with LED flash and is capable of recording 720p HD video as well.
At the bottom lies the HDMI port alongside the proprietary connector and 3.5 mm audio port. The company stated that USB connector cable is bundled with this tablet unlike the Samsung Galaxy tab 10.1 tablet package. This tablet also comes with an orientation lock button which is quite interesting.
Lenovo has changed the icons on the Android 3.1 Honeycomb and offered the Lenovo SocialTouch app along with the core Honeycomb experience. There were bunch of pre-loaded apps which include games line Angry Birds and bunch of others including Amazon Kindle.
Despite its heavy nature, the tablet did give a good feeling in hands while holding its textured back with four fingers of one hand or eight fingers using both hands. The company will also offer connector keyboard dock which was placed for demonstration at the launch. While docked up with the keyboard using proprietary connector, the keyboard's spacebar key was not functional properly. But the layout of the keyboard with well-spaced keys and glossy chassis finish certainly looked pleasing.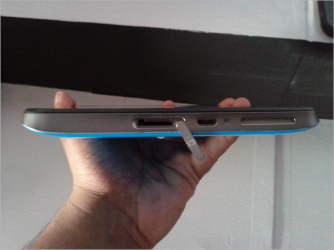 Lenovo offers IdeaPad K1 in two models &#151 32 GB WiFi only tablet will cost Rs 29,990 which is pretty much the price of most other tablets available in the Indian market right now. The IdeaPad K1 32 GB WiFi+3G version will be available for Rs 33,990.
Lenovo ThinkPad Tablet
Touted to be the business class gadget, the new ThinkPad tablet comes docked in a keyboard folio case- a cover that connects the tablet to a full ThinkPad keyboard with red presenter button in the middle.
This is yet another Android 3.1 Honeycomb OS based tablet targeting at the business category customers in small-medium business and full scale business segment. This tablet comes with 10.1 inch touchscreen IPS panel built using Corning Gorilla Glass technology and offers 178 degrees viewing angle. By default, the touchscreen supports WXGA (1280×800) pixel resolution with 16:10 aspect ratio.
A novel part of this ThinkPad tablet is that it comes with a wireless digital pen that helps the user take notes quickly on the tablet. This stylus pen is powered with AAAA battery.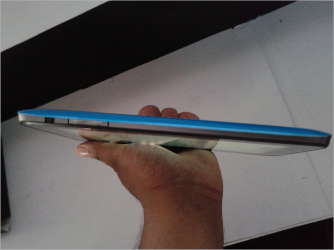 In the portrait mode, the ThinkPad creates four types of clickity sound making easy to use buttons that look pretty business like than fun. Under those buttons rest the HDMI port, micro USB port, 3.5 mm audio port and proprietary connector port. Next to them is a multi-media micro SD card reader and SIM slot which is covered with flip-open cover. One can easily source out 1080p HD video using the HDMI port.
Lenovo has added one full size USB port to this tablet so that users can connect their Flash drives to be used with this tablet. ThinkPad also has a USB file copy app on the tablet OS that will let users manage the files when USB flash storage is connected with this tablet.
For video conferencing, the Lenovo Thinkpad offers 2 megapixel camera in the front and for imaging a 5 megapixel camera at the back with LED flash.
Being the enterprise level tablet, the ThinkPad is claimed to be really sturdy and rugged for usage. For the enterprise customers, Lenovo has offered secured email access using Good Technologies app and Cisco VPN support along with capability to control the device with Active Directory Password. Few enterprise apps like Cisco AnyConnect and Computrace Mobile also come pre-loaded on this tablet. The Citrix Receiver will let the users access their desktops and work related apps from practically anywhere with XenDesktops and XenApp infrastructure at the backend.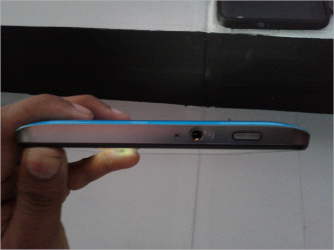 The MyScript Notes Mobile is a note taking applications that comes with onscreen handwriting recognition technology. That means if you write with the digital pen on the screen, it will recognize letters with support for up to 27 languages.
Along with the Keyboard Folio, the ThinkPad appeared bit heavy in hand and totally gave the business look.
Lenovo ThinkPad tablet will come in two models &#151 16 GB WiFi only model starting Rs 29,500, 32 GB WiFi+3G model starting Rs 41,900 and 64 GB WiFi+3G model starting Rs 46,900.
Lenovo offers up to 2 GB cloud storage for all three tablet families and also adds the Lenovo App Shop that offers Lenovo approved apps from various categories. All three tablets come with 1 year warranty and feature commonly found functions like WiFi, Bluetooth, GPS and 3G support (select models).