Having tested the market with ME AM7-A1 and ME AE7-the company has now released the new Me Tab X1.
Looks
The piece we saw was grey with a brushed aluminium finish. It looks good with just one physical button. Three sides of the device are clean with a metal frame all around, and a volume rocker on the bottom right side. The bottom of the device is full of slots and a power button. There is a USB slot, Mini HDMI, SDcard slot, charging socket, 3.5 mm port and power button, all cluttered together along the narrow bottom of the tablet. This works well if you're using just a couple of slots because it means the rest of the tablet is clean. The camera is placed on the front right hand corner along with the sole physical button, which works as both a back and a menu button.
What's new?
HCL has bundled around 35 Indian apps to the device and has a collection of 10,000 in its app store, which is accessible through this tablet. Sadly there is no native access to Android Market itself (which has more than 1.5 lakh apps and is growing thanks to thousands of developers working on it). However, you can download the Android Market app here.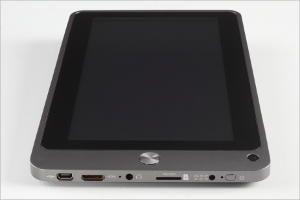 The second thing HCL has done is to promise 24×7 support for this device, and for that it has an app which will help the consumer connect to a customer service executive through live chat.
Relative to the AE7, which costs about as much, HCL has also upgraded the hardware which now features a 1 GHz process (vs 800 MHz in AE7), and a 3500 mAh battery (2400 mAh in AE7). There is now an HDMI port to connect it to a TV for viewing content in high definition. You also get a capacitive screen instead of a resistive one in AE7 but the resolution remains the same at 800 x 480 pixels. The front camera has also been upgraded from VGA to 2 megapixel, but there's no back camera.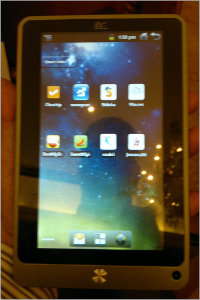 The GPS is missing in the latest tablet though the last device did have it. And that is a serious omission as many of Android's features like Google Maps (not limited to Android though), geo-tagging etc. will not work. This is the first Android device I have seen without GPS. When you connect it to a dongle you will be able to use Maps, which will get its location through your cellular network but this isn't very accurate.
The tablet doesn't have a SIM slot either. You can connect a dongle for data connectivity but don't expect SIM calling. This is again something that almost all competitors have and though dongle support gives a lot of choice, this choice comes at an additional cost of Rs 1,000. HCL is looking at bundling offers to bring down the price.
How does it perform?
Battery performance looks good. At HCL's presscon, the device was connected to a TV for about two hours through an HDMI cable for video. Battery drop was minimal. The company claims 8 hours of working battery life per charge.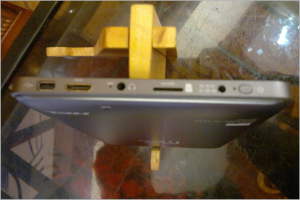 The capacitive display registered every touch gesture we made and was responsive enough for a device of this price. Screen resolution is something we thought was low, and continues to be so. However, this is a budget device so expect much not fair, though the choice of theme was also affecting our opinion as the app icons where not showing well on a darker background.
Competition
Reliance 3G tab: it has a smaller 800 MHz processor, but comes with 3G connectivity, GPS and bundled 3G plans from Reliance Communications. It is priced slightly higher at Rs 13,000.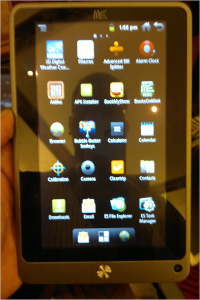 MSI Enjoy 7: it is slightly costlier at Rs 12,000 but has a much faster 1.2 GHz processor. Like HCL it lacks 3G connectivity and supports 3g/EVDO dongles. MSI Enjoy 7 has better specifications overall.
Beetel Magiq: has a small 768 MHz processor and a resistive screen but is priced at Rs 8,000 which is about Rs 2000 cheaper than HCL's device. However, it gets 3G connectivity and Airtel 3G bundled offer.
iBall Slide: Is almost identical to HCL except for 8 GB internal memory (HCL has 4Gb) and supports only 720p video playback through HDMI (HCL supports 1080p). Is also priced higher at Rs 13,000.
Other: There are few unknown brands in the market that offer much cheaper options but then they are from unknown brands lacking the trust.
Verdict
Although we have used HCL Me Tab X1 for a very short time, we can say that its a mixed bag. While it misses out on some important features, HCLs wide network and some interesting application comes preloaded with the device making it worth looking at. It costs Rs 10,500.