Swipe, in association with MTV, a couple of days back launched its latest offering – Swipe MTV Slate tablet – for Rs 14,999. This tablet has calling capabilities. It is the fifth tablet to be launched in the last two years under the joint branding of Swipe and MTV.
We got a chance to spend some time with the device during its unveiling in Delhi. Here is our first impression of it.
Specs
Swipe MTV slate has a 7.85 inch IPS display with 1024 x 768 pixel resolution, and it is powered by a 1.2 GHz quad core Mediatek processor. It runs on android 4.2.2 Jelly Bean operating system. There is a 5 megapixel camera in its rear and a 0.3 megapixel camera in the front. The MTV Slate is armed with a 3200 mAh li-ion battery.
MTV Slate has 8 GB internal memory and 1 GB RAM. Besides, the tablet has a 32 GB expandable memory slot. It has a single SIM slot and you can use any operator's SIM card for calling and internet connectivity. It also has WiFi, GPS and Bluetooth.
Swipe MTV Slate comes with an MTV branded flip cover and USB OTG cable, which allows one to connect other USB devices like a USB flash drive, digital camera, mouse, or keyboard to the tablet.
Look and feel
Swipe MTV Slate looks quite good as compared to other devices in the same price bracket. It has a back panel made of aluminum, which gives it a nice look while making it sturdy.
To insert a SIM or micro SD card one needs to pull the small flap in the back panel of the device. The flap though is made of plastic and is very hard to remove.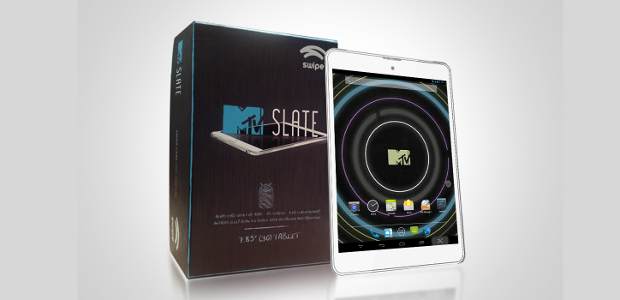 The rear camera is on the left corner of the back panel and volume rocker and power button are on the side panel. The quality of buttons is decent.
Overall the design of the tablet looks uniform and there are no sharp edges.
Display and user interface
The display quality of the device is quite good and images on it look lively thanks to its HD resolution. The Swipe MTV Slate comes with a stock android user interface. This needs some attention because this is not the first tablet from Swipe's stable, so far they have launched 21 devices, and a customised user interface overlaid on the device would be a welcome change.
Nevertheless, during my interaction with the Swipe team I was told the company is working on a UI which will have different segments for storing different content or apps. The UI is expected to be released in December and all users of Swipe devices will get it through the Swipe assist app.
Swipe Assist app is a nice feature in the tablet, which gives details about available updates, customer care number and email id, service center numbers and address, and access to a user manual.
Also, because of the MTV partnership one will find a lot of pre loaded content from MTV in the form of apps like Funny and Hottie of The Day, but of course you need cellular or WiFi network to run them.
Camera
Picture quality of the 5 megapixel rear camera was just satisfactory and in different lighting conditions it was found wanting. If you want to use the front camera for video chats you will be satisfied with the output but don't expect the quality of self-portrait shots to be great.
We would like to do a thorough camera test before pronouncing our final verdict.
Final word
In terms of specs and design Swipe MTV tablet looks good, minus a couple of minor issues like SIM and micro SD card flap as mentioned above. The camera could have definitely been better but on the pricing front it is not disappointing.
However, I have not reviewed the tablet and will therefore reserve my final opinion about the battery and performance of the device. Till then keep reading The Mobile Indian.