Although Facebook has had tools to prevent suicides for over 10 years now, the company has now integrated Artificial Intelligence into the whole mechanism. Facebook is probably the most used social media platform in the world and people often share their feelings over the platform which sometimes might hint a possible chance of harming one's self. To built on the suicide prevention tools, the California-based giant has now released a blog post which says that new AI-powered suicide prevention tools will help track user's activity on the platform and reach out the concerned person for help. Not only this, Facebook also claims that the new tools will be extended to Facebook Live and Messenger service as well. So if a user has been chatting with someone that hints self-harming, the Live chat support from one of the crisis support organisation will pop up in the Messenger right away.
Facebook said in a blog post – "Based on feedback from experts, we are testing a streamlined reporting process using pattern recognition in posts previously reported for suicide. This artificial intelligence approach will make the option to report a post about "suicide or self-injury" more prominent for potentially concerning posts like these."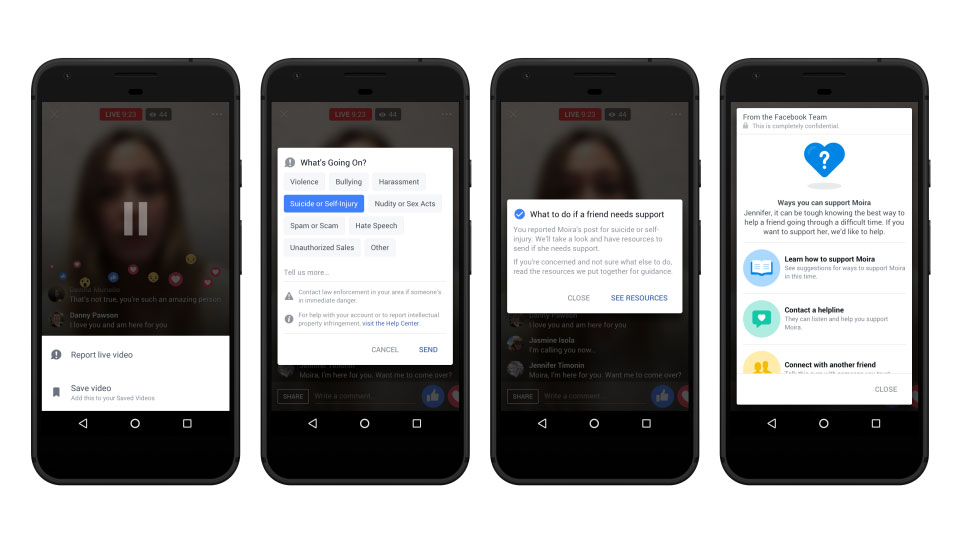 To explain this, with the help of these new tools and algorithms, Facebook will track a user's post on the website which hints of suicidal tendency. For example, a post saying – 'I don't feel like living' or posts expressing sadness would immediately stimulate these algorithms. Further, comments from friends such as – "Are you fine?" will act as another stimulator.
The blog post further read – "Our Community Operations team will review these posts and, if appropriate, provide resources to the person who posted the content, even if someone on Facebook has not reported it yet."
To reach out for help to users with suicidal tendencies, Facebook has partnered with organisations like National Eating Disorder Association, National Suicide Prevention Lifeline etc. Further, this new feature has been currently tested only in the United States. However, Facebook plans to gradually extend this service all across the globe by partnering with over 70 organisations all around the world.