Reeling from its recent criticism over data breaches, Facebook has redesigned its entire settings page so users who are rethinking about using the social platform won't face any difficulty in building a barrier around their privacy. With the latest update, users will be able to access the settings menu from a single page, be it using a mobile interface or a desktop.
The latest announcement comes as a blog post from the company's Chief Privacy Officer, Erin Egan which read "We've heard loud and clear that privacy settings and other important tools are too hard to find and that we must do more to keep people informed."
In a move to strengthen its user policies, Facebook has now put up a newer cleaner interface in place of the outdated settings panel to make it easier for users to revoke apps' ability to use data. While there's no change in its working, the social media platform displays a more visual and clearer experience by allowing things to be easier to find at the same time. Facebook has also clarified that it will notify all of its users about a simpler version of their terms of service.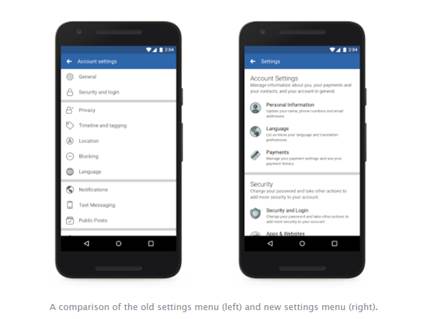 With the newest update, users will now be able to control who gets to view their post, profile information and the ads they use. One can also delete anything from their profile or their timeline. The new "access your information" section will give users a secure way of managing the data they've shared with the company including comments, statuses and stuff they've searched for. This section will thus be where users can go on to delete private information or download their copy.
With the latest announcement, the social networking site is moving against partnering with third party data providers and is thus shutting down its partner categories. Partner categories were what allowed advertisements to use third-party data providers that targeted a specific audience directly on Facebook. Previously, any company was allowed to advertise on the platform using the information extracted from one's profiles, which were sold to them by data aggregators like Experian and Acxiom. Starting this week, Facebook won't allow using this service from data providers of any kind.
While the new upgrading of the privacy menu will allow for a more secure account, it remains to be seen how Facebook refreshes its privacy policy and terms of service to keep hold of the remaining users who didn't opt towards the #deleteFacebook campaign.