Eesha Khare, an Indian – American girl from Saratoga, California, has invented a new device that could be the solution to all recharging related troubles for our portable devices like mobile phones in the future. Known as a super-capacitor, it would enable devices to recharge and regain battery power in as less as 20 seconds.
Eesha Khare has been awarded the Young Scientist Award by the Intel Foundation for developing the super conductor device.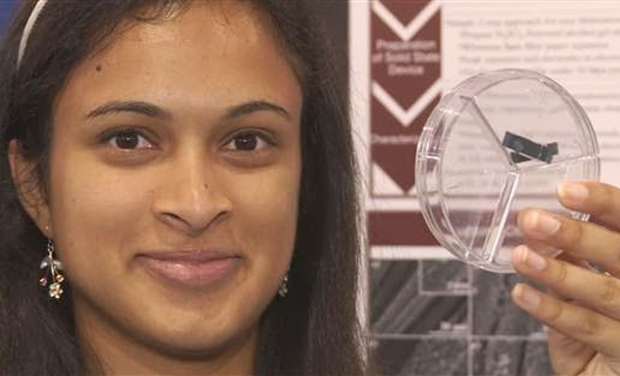 The super capacitor device is capable of holding a large amount of current or power in a very small space. The device is also capable of retaining charge for a longer time and the same can be charged within a very short duration of time. The device also has about 10,000 recharge cycles that is approximately 10 times more than a 1,000 time recharge cycle that is offered by most battery packs today.
According to WSJ, the inventor also claims that the super capacitor device is flexible in nature and its smaller size allows it to be used in smaller devices, flexible displays, which soon will start featuring in device an wearable computers as well.
The actual implementation for mobile devices and portable electronics has however not yet been tested but the inventor certainly hopes for the same in future.