Christmas is round the corner and the festivities have begun, atleast, at the Android Market! The Market is flooded with games and applications based on the Christmas theme. Be it wallpapers, ringtones or games – everything has been re-designed to add to the festivity.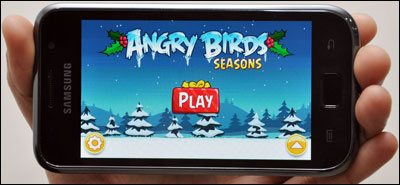 Telecom Yatra brings you a glimpse of the most popular Christmas games at Android Market; and the best part is they're all free:
Angry Birds Seasons
If you own an Android handset, chances are you have already played the popular Angry Birds game. Angry Birds Seasons is similar, only the background is changed into snow filled winter landscapes with birds wearing Santa caps. In addition to the 25 levels of Christmas Fun, you have previous Halloween levels also packed in.
Slice It
This game, too, has been in the market for some time and the developers have just added some artwork to give it a Christmas feel. Slice It now comes with a Christmas theme and snow effects.
The game requires you to slice different figures into the same ratio or surface area.
City Jump – Xmas Season
City Jump is a simple and addictive game. You need to jump between buildings to avoid obstacles on the wall and kill enemies on the way. The game already has a superhero version, which is the original, and a ninja version to its credit. The game play in the Santa version remains the same although the design changes.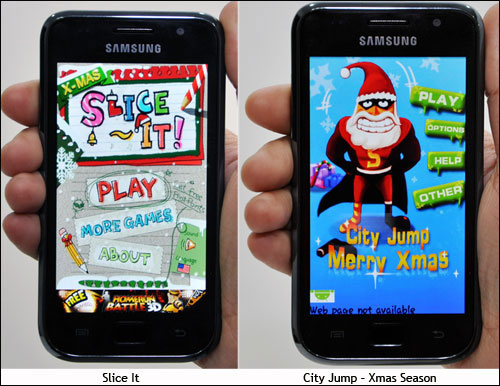 Basketball Shots 3D
If you want to try your hands at basketball in a snow filled court with Santa drawn on the walls, this game is for you. You get a chance to score 25 shots from five positions in under 60 seconds. As the name suggests, the game has 3D graphics.
Talking Santa
We already have experienced Talking Tom Cat. Now the same developer has given us a festival edition called Talking Santa.
This application lets you to do all the talking you want with Santa Clause and Talking Santa repeats all you say in low, heavy grumbling voice.
You can also serve milk and cookies to Santa and click on the bulging sack to receive a present. The items inside vary.
However, if you slap or hit Santa, he throws a gift to the ground and stamps on it.