Electronic Arts Mobile has announced a new four-day Glorious Game Sale for iOS based devices – iPhone, iPod touch and iPad tablet. The Glorious Game Sale promises up to 80 per cent off on several popular game titles. Of course you will have to visit the deals page – http://dailydeals.eamobile.com/ to check out the game titles with discounts.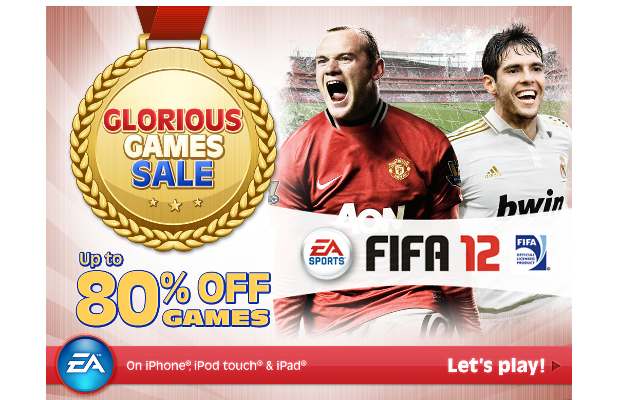 Electronic Arts Mobile has been offering some of the best game titles that are easy to play and that deliver high replay value. With the Glorious Game Sale, you can now purchase the games that you may have missed or wish to play again and on the go.
The Glorious Game Sale for iOS devices includes 27 game titles such as Battlefield: Bad Company 2, Dead Space, FIFA 11, FIFA 12, Madden 12, Mirror's Edge, Monopoly, Monopoly: Here & Now, NBA JAM, Need for Speed Hot Pursuit, Need for Speed Shift 2 Unleashed, Pictureka, Real Racing, Real Racing 2, RISK, SimCity Deluxe, SimCity Medieval, The Sims 3, SimCity Medieval, Snood, Tetris, The Game of Life, Trivial Pursuit Master Edition, Yahtzee, Burnout Crash and Mass Effect Infilltrator.
You can purchase these games by logging into iTunes using your Apple ID.