Dyson has debuted the new V12s Detect Slim Submarine vacuum cleaner as the brand's first all-in-one wet-and-dry cordless vacuum cleaner. The new vacuum cleaner supports a wet roller head called Dyson Submarine that, according to the brand, can deliver the right amount of water to effectively remove spills, tough stains and more. Read on to know further about the new cleaner.
Dyson V12s Submarine Vacuum Cleaner: Price, Availability
The Dyson V12s Detect Slim Submarine cordless vacuum cleaner is available at Dyson's own website and Dyson Demo stores at Rs 62,900.
Dyson V12s Submarine Vacuum Cleaner: Features
Dyson Submarine Wet Roller head
The new wet roller head has been engineered in a manner that uses combination of hydration, absorption and extraction technologies. It comprises of an eight-point hydration system, using a pressurised chamber for even water distribution and optimal saturation across the full width of the roller. Eight water jets, evenly spaced along the roller, release precisely 18ml water every minute to wash floors without leaving the floor excessively wet.
The water is stored inside a 300ml clean water tank which can cover flooring up to 1200 sq. ft. A slightly larger 360ml dirty water tank makes sure that no dirt or debris is transferred back onto the floor, and the roller remains saturated with clean water from start to finish.
It has a motor-driven microfibre roller that removes spills, tough stains and debris. Moreover, it equips a durable plate which extracts contaminated water from the wet roller and deposits it into a separate waste-water tray for easy emptying.
Read More: Dyson V15 Detect Extra vacuum cleaner launched in India
Hair Screw Tool
Alongside the Dyson Combi tool and Crevice tool, the Dyson V12s Detect Slim Submarine also comes with Dyson's motor-driven Hair screw tool, an instrument made for pet owners. It is designed in a way to prevent wrapping of hair around the brush bar, while the conical brush and angled bristles enable hair to "migrate" down the brush bar easily, sliding off the tip and into the bin.
Filtration system & suction power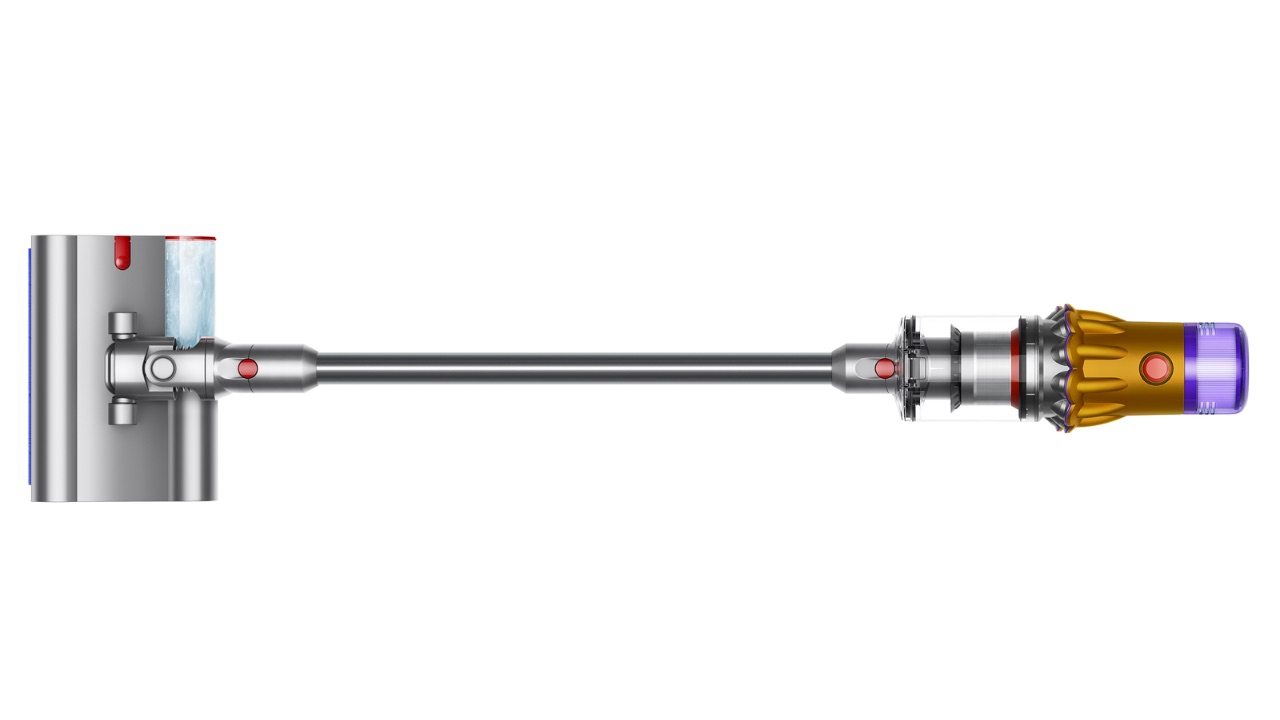 Dyson's Hyperdymium motor spins at up to 125,000rpm, to deliver 150 AW of suction power. After vacuuming and once the Dyson Submarine wet roller head is attached, power is automatically diverted from the Hyperdymium motor, so there is no vacuum suction. This prevents water from entering the motor and ensures contaminated water and debris are collected in the tray inside the Dyson Submarine wet roller head.
Dyson claims that the filtration syste. captures 99.99% of particles as small as 0.3 microns. The brand's Proprietary cyclone technology helps in separating dust and dirt from floors and surfaces and whole machine is completely sealed which means that the dust isn't leaked back into your homes.
LCD display & Optic cleaner head
The vacuum cleaner also comes with an optic cleaner head that uses a light source positioned as at the endcap of the cleaner head. A blade of light is then projected to illuminate microscopic particles on floors.
Lastly, there's an LCD screen that shows the size and number of particles, displaying real-time scientific proof of a deep clean by counting and measuring microscopic dust particles with a piezo sensor, which automatically increases suction power across different floor types and dust amounts.