Leading manufacturer of batteries and rechargeable, Duracell has entered the mobile power segment for the first time with the introduction of Duracell Powerbanks. The Duracell Powerbanks come in three different battery capacities and will be available exclusively through Amazon India for a starting price of Rs 999.
The Duracell Powerbank powers up your phone 2x faster than a regular 5W wall-mounted sockets. Duracell's Powerbanks are compatible with Apple, Android and most USB-powered devices. Any of the three devices can charge phones up to 30 per cent in 20 minutes. The most expensive of the three – the Duracell 10050mAh Powerbank will be able to power up a cell phone two times faster than a regular wall-mounted socket giving consumers 72 hours extra talk and surf time.
The Duracell powerbanks come with ten protection features including protection against short circuit, Overvoltage, Output overload, Over temperature protection, Cable loop protection, Overcharge or discharge at the cell level, Over and under voltage at the input, Under temperature operation, Dual safety circuits and is flame retardant.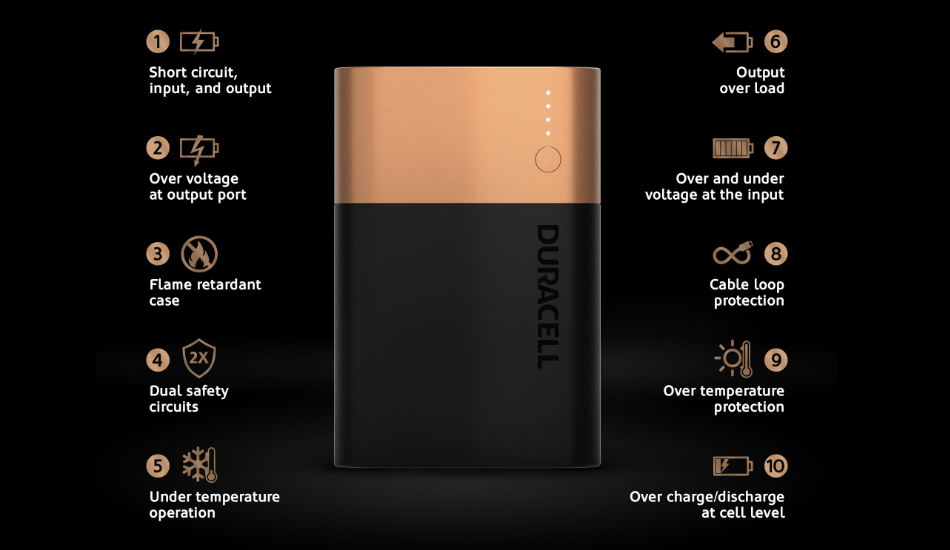 Speaking about the launch, Duracell Marketing Director for Middle East and India, David Abraham said "In launching Duracell Powerbanks in India, we are catering to the needs of the consumer living in today's fast-paced world and constantly multitasking on their smartphones. Our new mobile Powerbank empowers consumers to get on with their busy lives, without worrying about their phones losing its charge. The Powerbank also sports multiple security features to keep safety as a priority. Light in weight, it has the trademark Copper Top design that is synonymous with Duracell".
The new Duracell Powerbanks will be priced at Rs 999, Rs 1,499 and Rs 1,999 for the 3,350mAh, 6700mAh and 10,050mAh units respectively on Amazon India exclusively. All three powerbanks will come with a three-year warranty and will be available from October 10.