Dolphin Browser HD for Android has a massive update which brings a host of significant features like gesture and Webzine support.
Just like Firefox for Android, the new Dolphin Browser HD also supports add-ons. However, gestures and Webzine makes it stand out amidst other third party and even native browsers.
The new Dolphin Browser HD is available for devices running Android 2.0.1 or newer operating systems. It can be downloaded from the Android Market or from here.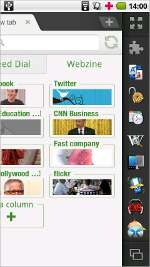 Dolphin Browser HD for Android now brings a slew of features that are expected to make mobile browsing easier. Right from multitouch based pinch-to-zoom to smart address bars, Dolphin Browser HD carries features from most modern day web browsers for desktops. It offers browser tabs, sidebar and even speed dial.
The new gestures feature is pretty useful: press or tap on the gesture button and then you can draw a pre-determined gesture with your finger tip. For instance, drawing an F or G letter after tapping the gesture button will take your Dolphin browser tab to Facebook.com or Google.com, respectively. You can customise the location of the gesture button and can also add more gestures to the list.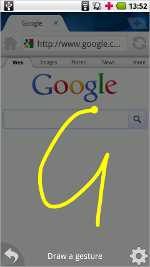 A new feature in Dolphin Browser HD 6.0 is Webzine support that allows the user to read all subscribed content in a cleaner display wherein web pages are arranged in a stack of image thumbnails. One can also create Webzines using a website or blog's RSS feeds.
In addition to aforementioned features, Dolphin Browser HD extends support for more than 50 different add-ons, similar to Firefox. It is possible to add different add-ons such as AdBlock, Password Manager, Google Translate and so on.
The beauty of Dolpin Browser HD lies in its minimal installation file that is only 2.8 MB large; compared to other browsers that go beyond 10 MB.
Avid Android smartphone owners should certainly give Dolphin Browser HD a shot.