Some health conscious individuals aside, most of us do not enjoy dieting, though we often still do it. Controlling a natural urge like hunger has never been fun, and things become worse when every alternate day brings a new diet plan which promises to make you slim overnight.
While you'll require willpower to attain your dieting goals, you don't need to buy books or go to a dietitian anymore. To get started, all you need is an Android smartphone and the right health App for you. Here we bring you three of the best on Android.
Absolute Fitness
Absolute Fitness is informative for people who want a daily diet routine. Based on your lifestyle, it can tell you things like how much protein or sugar to consume. The app maintains all your records and is expansive, so much so that users some times find it difficult to handle. But just enter food intake, exercise details, current weight, goals and activities. You'll then be taken to the diary page which has comprehensive information on nutrition. Exercises added in the diary help the app calculate the number of calories you burn.
Beer Gut Fitness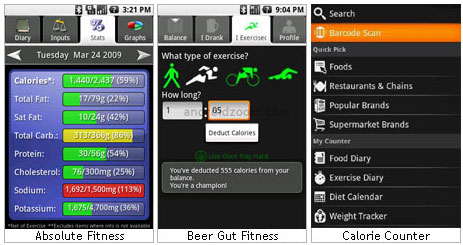 The frosty beer end up giving us so many empty calories, the British often call this habit the Red Menace. Targeted at beer loving people, Beer Gut Fitness is an Android app into which one enters details about the exercise one does and the quantity of beer one has. The app then calculates how much one needs to work out to burn the extra calories.
Calorie Counter by FatSecret
Calorie Counter by FatSecret has a database that people can use to find the calories they consume at restaurants etc. The phone's camera can be used as a barcode scanner to check how many calories different products have. There is a simple idea behind the app, and it's to let you know more about the food you eat because the more you know, the better you control your body.