The India-based brand Detel has announced the launch of Delet D1+ feature phone. At a price tag of Rs 399, the device will be exclusively available on B2BAdda.com from January 26 in Grey, Black, Brown, Red, White-Red and White-Blue.
The Delet D1+ features a 1.44-inch TFT display along with a T9 plastic keyboard. It is backed up by a 650 mAh battery and offers a Dual-SIM support. Further, the BSNL will offer talk time and data offer to users. Other than this, it is equipped with wireless FM support with a 3D speaker and GPRS web browser.
In addition, the D1+ has is also fast charging facility along with microSD power saving mode. Speaking of many other features, it comeswith a flashlight, phonebook, vibration mode and voice recording.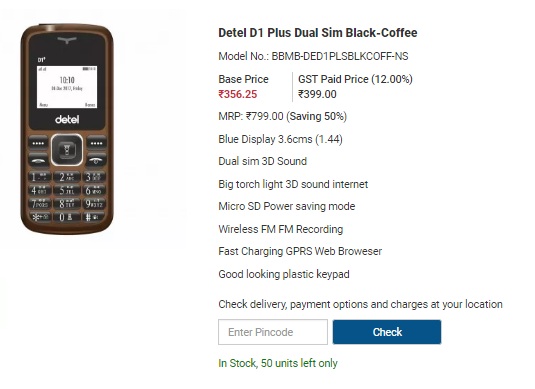 To recall, BSNL has offered Rs 153 tariff plan, which is designed for Detel D1 feature. The pack along with the price of Detel D1, which is Rs 349, users need to pay a total sum of Rs 499. Coming to the pack, Detel D1 feature phone users will get Rs 103 talk time along with call rates of BSNL-BSNL at 15 paise per minute and for other operators, it will be 40 paise per minute. The pack comes with a validity of 365 days and it also comes with personal ring back tone, which is valid for 28 days.
You Might Also Like
Commenting on the launch, Yogesh Bhatia, MD, S. G. Corporate Mobility (parent company of Detel), said, "We are glad to bring to our customers a feature phone that is not only economical & affordable but also caters to a lot more needs of the feature phone buyers in India. India is a price sensitive market and the consumers especially in tier- 2, 3 markets, and in rural areas are cautious about their spending behaviour. While urban population is increasingly growing tech-savvy, consumers from small towns and rural areas are still only marginally exposed to the technological advancements of the world."