Gamevil, the developers of famous game Zenonia and the fermium version Zenonia 3, has announced the launch of its latest game Destinia on Android. With this, the game becomes a part of the Google App store and is available as a freemium game.
Destinia is a story about one guard – Duke, who is imprisoned after defying an order to murder innocent civilians. There he is nursed to health by the Rebel princess Crystal. The two form an alliance to escape the prison and fight the Empire.
The game has a definitive storyline and increasing difficulty levels can be easily overcome with the upgrades bought by the cash or gold collected by killing guards and creatures.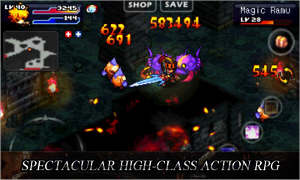 The developers have labelled this game to provide over 30 hours of game play, but that stands correct for dedicated gamers. Casual gamers will find this attractive enough and may take some more time to finish.
The Destinia game is available for free for download from Google's Android Market. Users can search for the application on their devices or the computer or alternatively users can follow the link to download application.