Dell Peju, with specifications that will put to shame some mid range laptops, has appeared on a blog (dellpejuinsder.blogspot.com) and in some allegedly official documents.
The tablet that will be launched in October this year, according to the blog, will feature Windows 7 pro (probably Windows 8) with a core i5 processor, 4 GB of RAM, a 10.1 inch HD screen and a 64 or 120 GB solid state drive.
A special dock will also ship along with the tablet and will offer two USB ports, a gigabit Ethernet jack, HDMI output and an audio port. Other goodies include 3G SIM, WiFi, (a 4G option is also there). The device has a 5 megapixel camera at the rear and a 1.3 megapixel camera in front for video calling.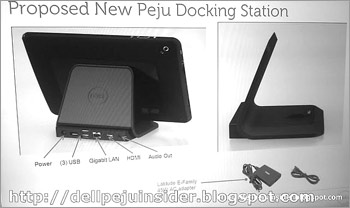 As touch-only inputs will not be sufficient for this powerful tablet, Dell is expected to ship a stylus and the ability to connect a Bluetooth and USB keyboard mouse.
But what will you do with such a powerful tablet? Well, that's for you to figure out. Since it's a Windows device it could work very well for enterprises as well as for individuals, same as any other Windows device.
There is no indication on pricing. However, we expect the device to be priced way higher than any other tablet currently available in the market, but for heavy users no price will be too high as the device will be the best combination of mobility and powerful specs in the market.
For Indian consumers who want a powerful tablet, the wait is expected to be no longer than anywhere else in the world as Dell has been reported to focus on markets other than USA for its tablets.