A leaked document has confirmed that Dell's 10 inch tablet will arrive in June. The Mobile Indian had earlier reported about these new devices from Dell.
Dell currently has two tablets in its portfolio: the Streak 5, which has a five inch screen and is available in India, and Streak 7, which has a 7 inch screen and is available outside the country.
The company is expected to add three more tablets to its portfolio. The first to arrive will be a successor to the current Streak series, but it will have a 10 inch screen with Android 3.0 Honeycomb operating system and dual core Nvidia Tegra 2 processor. It is expected to come in June.
This will be followed in July by a 13 inch tablet called Dell Latitude. This will be a Windows device with Intel i3 to i7 processors and a keypad doc (to transform it into a laptop).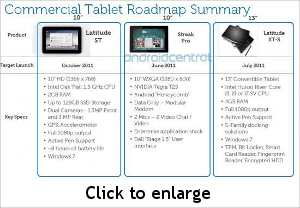 After a month's gap Dell will launch a Windows based 10 inch tablet in October. The device will be called Latitude ST and will feature an Intel Oak Trail 1.5 GHz processor and a 128 GB SSD, supported for up to 8 hours by battery.
All three tablets will boast high definition screens, but sadly these will only support data. So no calls can be made except using VoIP, for which there is a built in microphone.
These devices will also come with Dell's own stack of enterprise applications.
Though the dates mentioned above are only for international launch, the new Dell tablets are expected to come to India very soon. A Dell India spokesperson refused to comment but didn't deny the information's authenticity either.
While the specifications have nothing outstanding about them, the success of these tablets will depend on the price and application integration.