DIMTS (Delhi Integrated Multi-Modal Transit System Ltd), a joint venture of Delhi government and IDFC Foundation, has launched an Android application which aims to make public transport a much smoother and reliable experience.
The application will help users to get vital information like estimated time of arrival of buses, bus routes, track location of a bus, location of bus stops etc.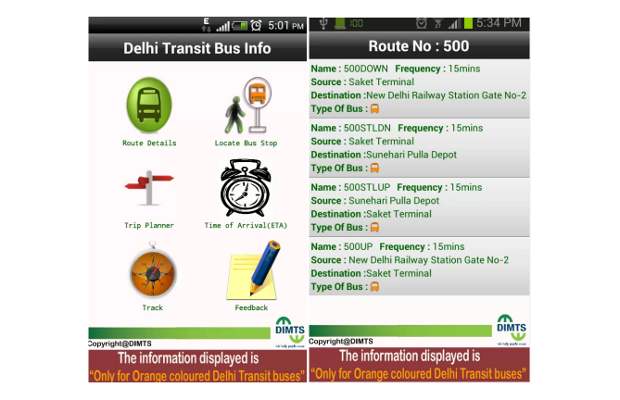 "The Delhi Transit Bus Info application will be available both on the Internet and on Android-based devices. Bus passengers can either go on to the DIMTS website www.dimts.in and click on 'Bus information for orange-coloured Delhi transit buses' or view the application on the beta version 'Delhi Transit Bus Info', which can be downloaded from Google Play Store," said DIMTS in a press release.
The application is currently available for only Orange coloured Delhi Transit buses, except for the Trip Planner feature which gives data of the DTC bus routes also. The information for DTC operated buses for the rest of the features will soon be integrated into the application.
The application will help the passenger get all the information on the click of a mouse or a button, all in real time, claims DIMTS. Users can give their feedback on the system through a feedback form that has been made available in the phone application.
The application is currently available in beta version on Android app store. DIMTS though will soon launch its iOS, Blackberry and Symbian versions.