A report by Informate Mobile Intelligence says that the methods used for communication through mobile phones has evolved and while there is an increase in the share of time spent on browsing and on various entertainment activities on smartphones,time spent on voice calls and messaging has declined in India.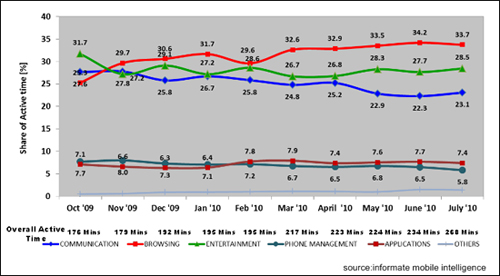 Kedar Sohoni, president, Informate Mobile Intelligence, says, "We have seen huge increase in content consumption over the past months. However, one area which has remained stagnant is voice."
Sohoni adds, "The increase in data usage is not just in terms of minutes of usage but also depth. People are not just visiting the same two to three sites every time; they are expanding their reach."
In fact, a mobile metrics report shared by the company reveals that time spent by users on voice calls in July this year is the same as that in October 2009. In July this year and October 2009 voice calls contributed 24.2 percent to the total time of 61.9 minutes and 48.7 minutes, respectively, spent on mobile phone communication by each user.
The total time spent on communication, however, has shown an increase owing to increase in use of chat and email services.
The report also states that the share of browsing in overall mobile usage showed an increase. Time spent in web browsing through mobiles increased from 27.6 per cent of total time spent on mobile communication in October 2009 to 33.7 per cent in July this year.
Telecom research agency Informate Mobile Intelligence studies usage patterns of,3,000 smartphone users daily. Although Informate Mobile Intelligence has been tracking the mobile market in India for the past 15 months, it has been commercially active for the last six months.