CNN, a popular global news network, has launched an application for Android users specifically. The CNN Money application focuses on providing top notch and fast business news to the Android users.
With this application, users can get access to CNN's award-winning business, finance and tech news on-the-go. This application tracks information and news related anything and everything that has something to do with money. Users can track the markets with real-time data, and also personalize a watch list to keep up with their favorite stock's performance.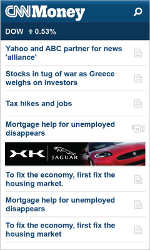 The CNN Money application for Android features a simple yet effective design so that people use minimal efforts to get to their kind of news on the go.
CNN has launched a similar application for the Android television users and the CNN Money application for Android aims at bringing all the services in a much smaller and comfortable format.
There is no charge associated with the use of this application and users can use this service and all its features for as long as they want absolutely free of cost. The application can be downloaded absolutely free of cost form the Android Market or by visiting this link.