Samsung has today announced its new range of TV ahead of Consumer Electronics Show (CES) 2018. The company has introduced, a massive 146-inch modular MicroLED TV known as 'The Wall' along with Q9S, an 85-inch 8K OLED TV with AI technology.
The Wall
Starting with The Wall, a 146-inch modular TV, it comes with a new MicroLED technology that delivers incredible definition, without restrictions on size, resolution or form. It is a self-emitting TC micrometre (µm) scale LEDs – which are much smaller than current LEDs, and serve as their own source of light. The company says that this eliminates the need for colour filters or backlight.
"The MicroLED screen excels in durability and effectiveness, including luminous efficiency, the light source lifetime and power consumption, setting the standard for future screen technology," the company said. It is durable as well and features a module-based, bezel-less design. The screen can adapt to serve different purposes, such as creating a wall-size display for multiple spaces.
Q9s 85-inch 8K OLED TV
The company has also announced its first smart TV with 8K AI technology with highest 8K resolution. The latest AI technology allows content and automatically upscales images or content into 8K resolution regardless of native resolution or method of transmission.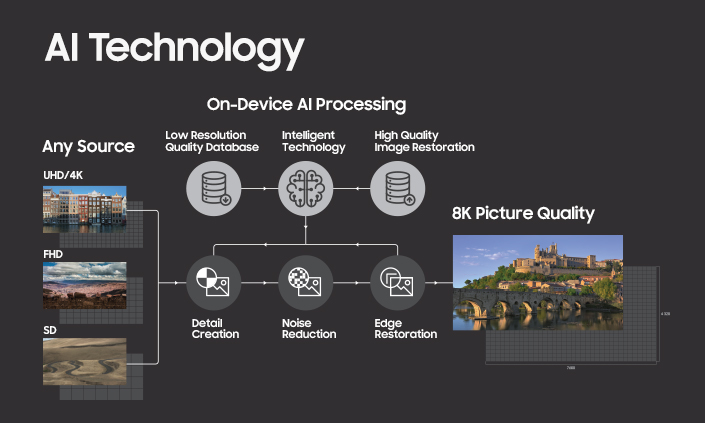 The QLED TV, based on AI technology, is equipped with a database that studies and analyzes millions of images in advance to transform low-resolution content into high-resolution. When fed with a source in low resolution, this feature of the QLED TV selects the optimal filter and converts the source into a high-quality image. The new QLED TV categorizes elements of picture quality (black/blooming/brightness) in input sources by scene to produce pictures with richer and more detailed contrast. With the feature, the edges of text are rendered sharp and a moonlight image is offered with the edges of the moon in the background clear, not blurred.
Furthermore, Samsung's AI technology enables the TV's sound to be optimized for specific scenes, without having to change any settings. "If you're watching a football game, for instance, the cheering of the spectators is amplified to recreate the excitement of the match. Or, if viewing a concert, the low-frequency sounds of the music might be highlighted to deliver a richer sound," the company said.