The 3G India Mobile Operators Executive Summit was held on Tuesday to throw light on the 3G network and how operators can maximise their revenues.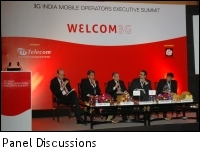 The 3G India Mobile Operators Executive Summit was held in New Delhi on Tuesday to throw light on several facets of the third generation (3G) network and to discuss ways in which operators can maximise their revenues from its deployment.
In a panel discussion on 'Making 3G a Commercial Reality in India', several industry veterans spoke on business strategies to tackle declining ARPU (average revenue per user) in telecom services, deployment strategies for nationwide coverage and operational challenges for running dual technologies (2G and 3G). Present on the panel were RN Prabhakar, member, Telecom Regulatory Authority of India (TRAI); AK Bhargava, principal general manager, wireless services, Mahanagar Telephone Nigam Limited; SS Sirohi, principal general manager, VAS, Bharat Sanchar Nigam Limited and Tommy Quitt, general manager, RBU Asia at ITI Telecom. The session was moderated by Kunal Bajaj, managing director, BDA.
The discussion kicked off with Bhargava and Sirohi speaking on the challenges MTNL and BSNL have faced with 3G network deployment. According to Bhargava, MTNL's 3G roll out was quicker than 2G as the company had used the established infrastructure and technology for the former. He said that the best strategy for operators who are planning to start 3G services is to "leverage their existing infrastructure". He added that while "there are no challenges on the technology side, there are challenges from the ancillary aspects such as billing, CRM and customer acquisition."
Bhargava also said that there are challenges in educating the customer as the customer thinks that 3G services are drastically different from the existing ones and expects these services to be available at the same tariff. "Customers don't care about 2G and 3G. Increased bouquet of services at same tariffs is what customers want," he added.
Sirohi took the discussion forward by saying that the "roll out of 3G services will have to be seamless and if the coverage is not complete in a city, the user experience gets a jolt." He added that when 2G and 3G are running together, "there are challenges in terms of handover and the network takes time to stabilise." Sirohi echoed Bhargava's views on educating the customer and said that "educating the customer is extremely important. With the deployment of this new technology, you certainly would like to have this as a premium service for premium customers. "But we found that when we planned a strategy with 3G tariffs slightly higher than 2G, people were not willing. We failed to educate our customers," he added.
Speaking on the challenges, Quitt said that it is not enough to buy network, there are lot of other challenges too such as bandwidth consumption.
Prabhakar remarked, "We (TRAI) are getting a lot of complaints for quality of service on 3G. Till the network really stabilises, TRAI will have to take care of the quality of service."