The upcoming version of BlackBerry Playbook operating system will have native email and calendar functionalities, a website has reported.
The website based out of China, Blackberrymen, has claimed to have some images of the latest and to be launched operating system version 2.0 for BlackBerry Playbook.
According to the images, the BlackBerry Playbook will be able access emails and messages as opposed to teething to a smartphone that is required with the present OS version.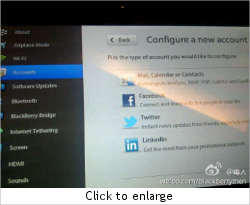 Looking at the bigger perspective it clearly shows that BlackBerry or rather Research In Motion seems a little concerned with the fact that all the other tablet available in the market today provide independent operations. But, with the addition of the native support for email, messages calendar and related services with the Playbook, it will also get a better status than what it enjoys as of now.
Notably, RIM has recently rolled out an update for the Playbook which included Differential Upgrade, aimed at reducing data costs for upgrading operating system.