BlackBerry Messenger is being updated to version 6.1. The public beta version of the app is available in the Beta zone on BlackBerry. The new features include the introduction of animated avatars. And then there are 12 new emoticons, including steering wheel and other faces. There are chat bubble colours as well, and the personal message size limit has been increased from 80 to 160 characters.
The BlackBerry blog post talks about the avatars, saying, "These avatars use controlled animation, which means that motion is activated when you scroll over the avatar. Three animated avatars are available as part of this beta as a sneak peek (including "smile," "laughter" and "in love"). We're planning to add a larger selection of animated avatars after the beta trial is complete. You can access these avatars when changing your display picture within the avatars folder."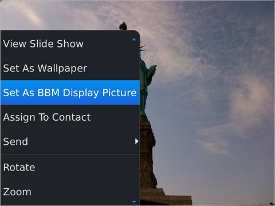 BBM users can customize chat bubbles for different contacts, and they have the option of choosing from 10 different colours. They can also go to different BBM contact profiles and choose the right colours. Overall, this is a good method of organizing different contacts.
Users can also take a picture and set it as an avatar.