In a span of around six months, the market has been flooded with mobile phones having five inch or bigger display screens. This also reflects in 'The Handset Hotlist Survey' of June, which was conducted by The Mobile Indian.
As per the survey, which is based on a study of online preferences of over one million people who visited the website (www.themobileindian.com) in June this year, 12 out of 25 mobile phones have five inch or bigger screens. The list includes five handsets of Micromax, four of Samsung and one each of Karbonn, Xolo and Spice. Interestingly, as many as eight smartphones in the list have displays bigger than four inches but smaller than five inches.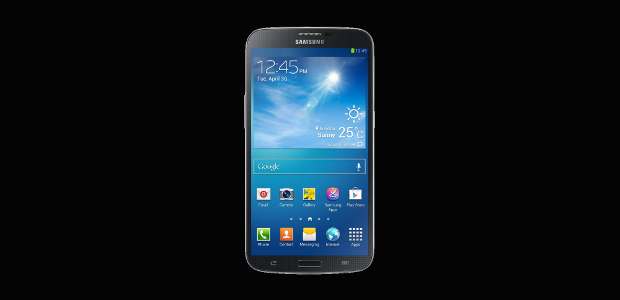 However, this increasing interest for larger screen-based handsets was not an overnight affair.
In our January 2012 survey, the average screen size of the smartphones that people were searching was 2.9 inches. In the month of June 2012, it was 3.5 inches, while in January this year, it was 4.1 inches and finally, last month, it jumped to 4.5 inches.
Commenting on the survey, a spokesperson of The Mobile Indian says, "Most of the handset players, especially Indian players, are launching smartphones with large real estate and it seems like they are the ones who are offering multiples options to consumers in terms of large screen sizes and that too at budget prices."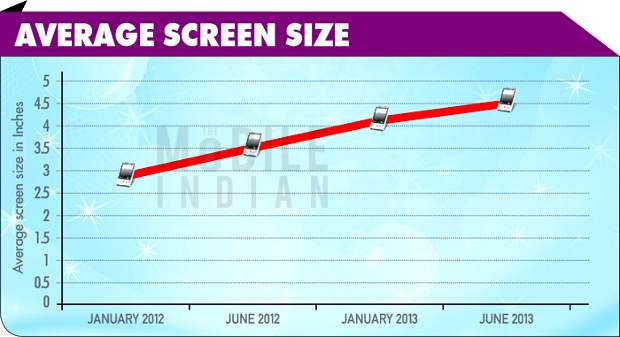 Of late, Xolo has come out with decent smartphones at competitive prices but never more than one handset from Xolo made it to our list. However, this time three handsets from the maker made it to the Handset Hotlist.
Commenting on the development, the spokesperson says, "Xolo in terms of grabbing consumer's attention has been on the fringe for the last couple of months. Reasons being, launches were not happening at regular intervals and even the availability of the smartphones was not uniform. The company has addressed these issues and is now in the reckoning."
Out of the 25 most searched handsets, seven each were from Micromax and Samsung, three each from Sony and Xolo, two from Nokia and one each from Karbonn, Spice and Apple.
The Relative Score, which was introduced recently, indicates the popularity of each handset vis-Ã -vis the leader. This month, there was close competition from position No. 3 to 10 for grabbing consumer interest. So much so, that slot numbers 3 and 4; 5 and 6; and 7, 8 and 9 have the same relative scores.
Top 25 Handset Hotlist for July-2013

| Rank June | Last May | Change | Model | Relative Score | Price (in Rs.) | OS | Screen Size |
| --- | --- | --- | --- | --- | --- | --- | --- |
| 1 | na | new | Samsung Galaxy Mega 6.3 | 100 | 28,500 | Android | 6.3 |
| 2 | na | new | Samsung Galaxy Mega 5.8 | 72 | 23,500 | Android | 5.8 |
| 3 | 9 | 6 | Nokia Lumia 520 | 64 | 9,300 | Windows Phone 8 | 4 |
| 4 | 7 | 3 | Samsung Galaxy S Duos | 64 | 11,000 | Android | 4 |
| 5 | na | new | Micromax A88 Canvas Music | 59 | 8,400 | Android | 4.5 |
| 6 | 8 | 2 | Samsung Galaxy Young | 59 | 7,500 | Android | 3.2 |
| 7 | 3 | -4 | Micromax Canvas 3D A115 | 58 | 9,200 | Android | 5 |
| 8 | 6 | -2 | Samsung Galaxy S4 | 58 | 38,000 | Android | 5 |
| 9 | 4 | -5 | Samsung Galaxy Grand Duos I9082 | 58 | 18,500 | Android | 5 |
| 10 | 5 | -5 | Karbonn Titanium S5 | 56 | 11,000 | Android | 5 |
| 11 | 1 | -10 | Micromax Canvas HD A116 | 54 | 13,500 | Android | 5 |
| 12 | 10 | -2 | Micromax Canvas Doodle A111 | 52 | 11,500 | Android | 5.3 |
| 13 | na | new | Xolo Q1000 | 50 | 13,000 | Android | 5 |
| 14 | 18 | 4 | Micromax A110Q Canvas 2 Plus | 39 | 10,000 | Android | 5 |
| 15 | 11 | -4 | Micromax Canvas Viva A72 | 37 | 6,400 | Android | 5 |
| 16 | 17 | 1 | Sony Xperia E | 36 | 8,300 | Android | 3.5 |
| 17 | 14 | -3 | Micromax Ninja A27 | 31 | 3,300 | Android | 3.5 |
| 18 | 23 | 5 | Sony Xperia U | 27 | 12,000 | Android | 3.5 |
| 19 | 13 | 6 | Apple iPhone 5 | 25 | 43,990 | iOS | 4 |
| 20 | 22 | 2 | Sony Xperia J | 25 | 13,500 | Android | 4 |
| 21 | 12 | -9 | Samsung Galaxy Win | 25 | 16,300 | Android | 4.7 |
| 22 | na | new | Xolo Q800 | 24 | 10,000 | Android | 4.5 |
| 23 | na | new | Xolo X910 | 23 | 9,999 | Android | 4.3 |
| 24 | na | new | Spice Mobiles Stellar Horizon Mi 505 Pro | 22 | 8,500 | Android | 5 |
| 25 | 20 | -5 | Nokia Lumia 620 | 22 | 14,000 | Windows Phone 8 | 3.8 |