Playing games, like Angry Birds, Cut the Rope and Fruit Ninja, all by yourself is certainly fun. But after the "highest points" madness, you slowly start getting bored of them. However, if you are playing with someone else or friends, there can be several moments of fun, mockery and frolic involved.
The Android Market, apart from several free apps, offers amazing and heavily engaging multi-player games that can get you glued to your devices for hours!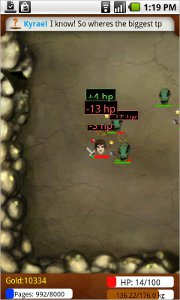 Considering the ease of play and potential of fun involved for hours, we've hand-picked five multi-player games that according to us are the best ones.
Parallel Kingdom:
Have you been wondering about a parallel universe where someone just like you lives a better life? Probably. Here's a massive multiplayer online role playing game (MMORPG), based on augmented reality that makes use of GPS. Loaded with Zelda-like graphics, the game makes use of your actual location over a Google Map.
Mythical beasts and other creatures crawl around your kingdom you are supposed to build by adding flags and houses on the map. Being a true MMORPG, you can chat with other players, trade goodies like items or gold, and continue to learn different skills in the game. One can learn ten skills with 30 unique abilities while plotting with other players online.
This multiple award winning game will promise you days filled with fun. You can download this game from this link or search in Android Market from your phone.
Guerilla Bob Lite: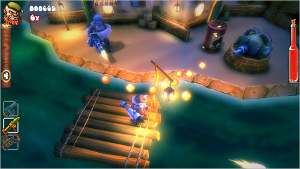 Guerilla Bob is one of the very few cross-platform multi-player games with stunning graphics and linear gameplay. If you love shooting around for some frills, then Guerilla Bob won't disappoint you. This dual-stick shooter game will often offer you the opportunity to upgrade your weapons.
The game is third-person top down shooter where in you play the character of a US Army soldier &#151 Bob. How would you feel if your best friend frames you up? Exactly!
You're supposed to go shooting around the bad guys to seek your revenge. You will have to tap to move around and at times will have dual joy-stick control buttons on the screen to take control of the situation.
Guerilla Bob offers two modes: Mercenary mode and Wave Survival mode. In the mercenary mode, you get money to buy weapons after each round. Same goes for the Wave Survival mode where in you get money to upgrade your weapons from the shop between waves.
Game offers seven missions and at each level there would be different enemies who can fire faster than you can.
If you're looking for some multi-player shooting fun, this game is must try. Also if you like it, you can buy the paid version to gain access to more weapons and feature.
Download Guerilla Bob Lite from this link or search for it in Android Market.
Raging Thunder 2 Lite: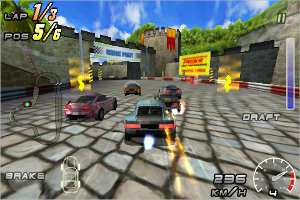 For all those speed freaks, Electronic Arts has brought the arcade racing to Android devices. But convincing other friends to buy a game just for multi-player fun is kind of dicey affair. Instead we have Raging Thunder, an arcade racing game with up to three player support.
Beefed up with console quality 3D graphics, Raging Thunder is one of the most addictive free arcade games that will keep you hooked to compete with others at most outrageous locations like abandoned temples, beaches, and snow-laden mountains.
Promising fast-paced and intense game play, this is one of the unique games that offer cross-platform multi-player support. Hence, it's not limited just to Android. In the Lite, as in free version, you can select either of the two cars and challenge people on two selectable tracks.
Get the Raging Thunder 2 Lite from this link or search for it in Android Market.
Cestos 2: Party Time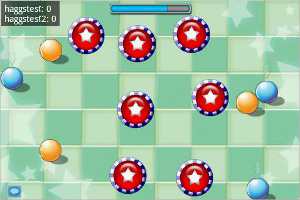 All those who love casual multi-player games just for fun should certainly play as the marble. Playing alone will get you bored in like half an hour but it is more fun of playing along with others. Before you get started, you will have to register (if you have not) and sign-in into OpenFeint.
Cestos 2 is a sequel to the popular Cestos and allows up to four players to join the game. One gets to choose the game type from &#151 Star Collector, Mine Field, Pinball, Black Hole and Target Practice.
After selecting a map, you land on to it with a timer. For movement, you are supposed to tap and drag the arrow away from the marble and then double-tap to confirm the direction you want the marble to move.
Key to this game is how good you are on predicting opponent's moves. You get coins on winning a game with which you can buy upgrades for your marble's face. You can get Cestos 2 from here.
What the Doodle!?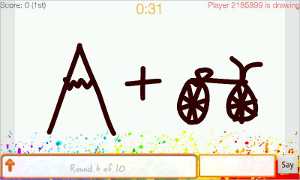 Doodling in the free time on paper while talking on phone or while you're bored happens unknowingly most of the time. Playing "What the Doodle!?" is very easy and simple which is why it's immensely popular amongst Android users.
Do not assume this as a simple doodling game for there are number of game styles and skill levels involved. Based on the words given to you, images need to be doodled on the screen. Challenge anyone across the globe and who knows, you might just end up making a doodle-friend.
Try out What The Doodle from this link or search for it in Android Market.