Google Allo didn't get the kind of response Google anticipated despite a lot of unique features such as Google Assistant integrated inside the chat messenger. However, if you are one of those who uses this chat messenger from Google a lot, then there is something you should be cautious about. A new report from Recode's Tess Townsend states that Google Allo accidentally shares your Google Search queries with the friend you are chatting with on the app.
Google Assistant on Allo acts like a unique chatbot which you can use even while chatting with a friend inside the chat window. However, the report from Recode highlighted that when asked to identify itself, Google Assistant fired up a Google search result which was interestingly done by the friend with whom the person was chatting with. Surprisingly, Allo actually tries to protect your personal information when you are conversing with someone on the chat messenger. For example, when asked about your name within a chat window, Google Allo will ask your permission before it spills out the answer.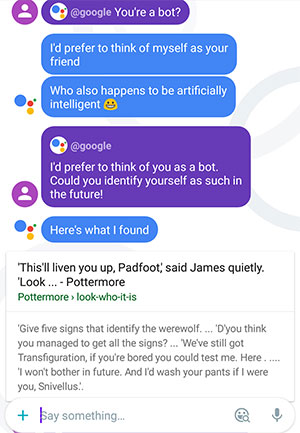 The statement in the Recode report read – "My friend directed Assistant to identify itself. Instead of offering a name or a pithy retort, it responded with a link from Harry Potter fan website Pottermore. The link led to an extract from "Harry Potter and the Order of the Phoenix," the fifth book in J.K. Rowling's Harry Potter series.
But the response was not merely a non-sequitur. It was a result related to previous searches my friend said he had done a few days earlier."
Fortunately, the search query which Google Assistant picked was way more normal than it can actually get. None of us would ever want someone to peep into our Google Search queries, especially given the fact that how awkward it can get sometimes. Google Allo is one of the most innovative chat messengers right now and privacy issues such as this will surely dampen the overall reputation which the search engine giant carries on their shoulder.
However, Google was quick to respond to this issue and said "We were notified about the Assistant in group chats not working as intended. We've fixed the issue and appreciate the report." The cause behind this privacy glitch is still a mystery as of now, however, we expect Google to learn from this hiccup in future.