NTT Docomo of Japan has come out with a new ultra-fast charging battery pack which needs just about 10 minutes time to get fully recharged. Although the technology is a bit crude at the moment but a prototype of this was shown by NTT Docomo at CEATEC (Cutting-edge IT & Electronics Comprehensive Exhibition) event in Japan.
This battery if becomes mainstream will solve a huge problem of smartphone users. Smartphones usually need 3-4 hours to get completely recharged and with numerous applications, it again gets out of charge in a day's usage.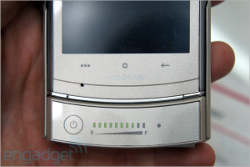 NTT Docomo has named the external battery pack as battery sleeve and has designed it for NEC's Medias Android smartphone. Although the video and the pictures of the device, as reported by Engadget, looks like a primitive age smartphone due to the bigger battery sleeve size but surely adds a new dimension of usage due to the major reduction in the recharge times.
The battery sleeve recharges from the same power source as your regular wall charger but it utilises almost 10 times the voltage while recharging. So basically, a regular battery charges at 0.55 mA, while the NTT Docomo battery sleeve charges at 5.8 -making it possible to charge the battery in a short time.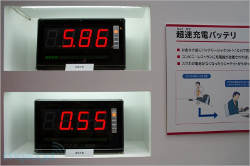 Charging battery at such fast pace has its own disadvantages as well – it damages the battery and considerably shortens the battery life as well due to over heating of the lithium cells. The project is in its very initial stages and works are going on to sort out the issue.