ASUS is all set to launch a 7-inch Android tablet &#151 Eee Pad MeMo, at the Consumer Electronics Show 2012 in Las Vegas on 9th January. The new ASUS Eee Pad MeMo will house a dual-core Qualcomm processor and will run Android 3.2 Honeycomb tablet operating system. ASUS will of course offer the Eee Pad MeMo tablet in Wi-Fi only and Wi-Fi+3G models in 16GB/32GB/64GB storage capacity options.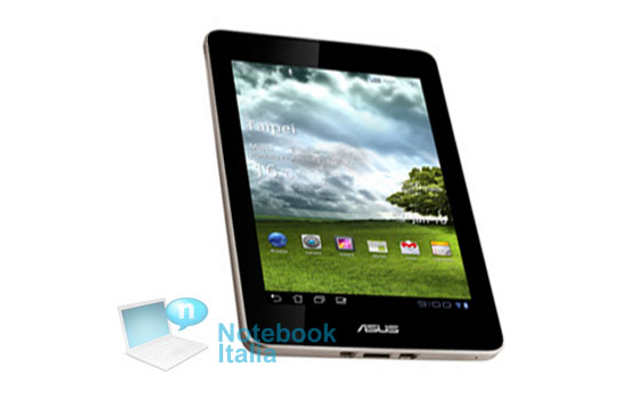 An Italian website Notebook Italia grabbed first image of the tablet and also details of the upcoming Eee Pad MeMo tablet.
ASUS has enjoyed the taste of success with Android-based Transformer and Transformer Prime tablets. Follow that, ASUS is expected to show the Eee Pad MeMo tablet that has a 7-inch capacitive touchscreen display with native 1280×800 pixel resolution. Do note that in this year 2012, the 7-inch tablets with 1280×800 will be a norm and if you plan to buy one always look for one with 1280×800 pixel resolution at least.
Under the chassis, the Eee Pad MeMo packs a dual-core 1.2 GHz Qualcomm Snapdragon mobile processor and on-board storage option of 16GB/32GB/64GB. ASUS will introduce WiFi only and WiFi+3G model options for the Eee Pad MeMo tablet.
ASUS Eee Pad MeMo tablet will run Android 3.2 Honeycomb tablet initially and eventually might be upgraded with Android 4.0 Ice Cream Sandwich in near future. This tablet will be made available in February next month. Though the price has not been announced, it is said to be falling in affordable range.
Considering the recent reduction of tablet prices including that of BlackBerry PlayBook, we can expect a very competitive pricing of the ASUS tablet. However, from the hardware point of view, we can expect the price of ASUS Eee Pad MeMo to fall anywhere between Rs 20,000 to Rs 25,000 considering several factors such as taxes and of course, the Rupee-to-Dollar value fluctuations. For India, we can only expect this tablet to show up in second half of this year unless ASUS has other plans for the country specifically.