Indian mobile phone operator Idea cellular in a move to cash in the untapped wannabe 3G users has announced the launch of two 3G smartphones starting from just Rs 5,850 under its own brand name.
Blade and id380
Idea 3G smartphones Blade and id280 are based on 2.2 Android operating system and have 3.5 inch and 2.8 inch screen size respectively.
Blade is basically ZTE Blade smartphone which is also sold in the country as Dell XCD35. It has a 600 MHz processor and a capacitive touchscreen.
On the other hand id280 which is made by Huawei is the same phone that MTS, a CDMA operator, sells under its brand name. It has a 2.8 inch capacitive screen with 320 x 240 pixel resolution, 528 MHz processor and 256 MB RAM.
Blade is priced at Rs 7,992 which makes it at least Rs 500 cheaper than the Dell XCD35, which obviously will not come with any free data bundle. On the other hand id280 is offered at Rs 5,850, while the same is offered by MTS at Rs 5,500 and with a much more attractive voice and data plan. However, the biggest benefit with Idea offering is that it can be used with any operators SIM card and is not locked to Idea.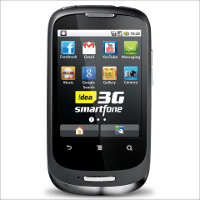 Tariff and other operators
As far as tariff plans are concerned Idea is offering an optional 1GB 3G data, mobile TV subscription and Rs 25 worth of talktime free for 3 months with with Rs 259 pack. Whats also good is the fact that users can choose to pick any other pack from idea as well, if they do not like this pack..
But, in comparison MTS, for its co-branded Android smartphone mTag is offering its pre paid users 150 calls, 150 SMS and 150MB data free for 12 months. While for postpaid users operator is offering the device for Rs 3,100 and then for 12 months its subscribers pay Rs 250 for which they also get 250 minutes of talktime, 250 SMS and 250MB data each month free.
Apart from MTS and Idea no other operator offer operator branded Android phones. While Vodafone is planning to launch its Android phone called Smart (will be similar to id280) it is still in the planning stage.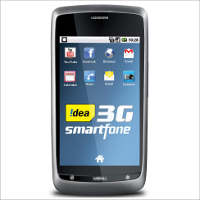 However, other operators have special or bundled tariff plans for flagship devices from different handset players. Like Airtel offers 2GB data for 2 months free on Nokia N8 and Beetel Magiq tablet.
Tata Docomo is offering Huawei ideos a phone similar to id280, for Rs 8500 with 3GB data free for 3 months which is thrice that of Idea cellular. However there is no bundled talk time or VAS offering like Mobile TV.
Tata Docomo also has similar offering for several phones from Nokia, Samsung, HTC and LG which are available to its subscribers at are MRP. But, the only freebies that customers can expect are discounts in data usage and voice calls which make it not much of a bargain.
Alternatives in the open market
Well, one can buy Samsung Galaxy Y for Rs 7,150 which is close to Rs 700 less than Idea Blade and the only drawback it has is slightly smaller 3.0 inch screen but it's certainly better in every other aspect. And it's not a locked device whereas Idea Blade is locked.
For the id280 there is no real alternative but in the same price bracket Spice Mi270 is available but it's not a 3G device.
In overall analysis, we find that the Idea cellular has priced the phones quite well and the voice and data offer is an added benefit and not merely an eye wash. What's also good is the fact that its an open handset not locked to any network and therefore users get the device at a cheaper price and the option to choose any network as well.