Apple has previewed new software features for cognitive, vision, hearing, and mobility accessibility, along with innovative tools for individuals who are nonspeaking or at risk of losing their ability to speak. These updates will be introduced later this year in Apple's upcoming major software update – iOS 17. The features are based off of on-device machine learning to ensure user privacy, and expand on "Apple's long-standing commitment to making products for everyone", according to the company.
Users can create a voice that could sound just like them
Apple has introduced a new feature that uses on-device machine learning to create a voice that sounds just like the user. Users can create a Personal Voice by reading along with a randomised set of text prompts to record 15 minutes of audio on iPhone or iPad. It further integrates seamlessly with Live Speech so users can speak with their Personal Voice when connecting with loved ones.
This feature has been made with those users in mind who are at risk of losing their ability to speak — such as those with a recent diagnosis of ALS (amyotrophic lateral sclerosis) or other conditions that can progressively impact speaking ability.
Read More:
Apple Final Cut Pro comes to iPads, but not for all of them
 Apple iPhone 16 Pro, Pro Max Expected to have Larger Displays and Advanced Camera Technology
Introduction of Point & Speak
The new Point & Speak feature combines input from the Camera app, the LiDAR Scanner, and on-device machine learning to announce the text on each button as users move their finger across the keypad. Point and Speak is built into the Magnifier app on iPhone and iPad and can also be used with other magnifier features.
Assistive Access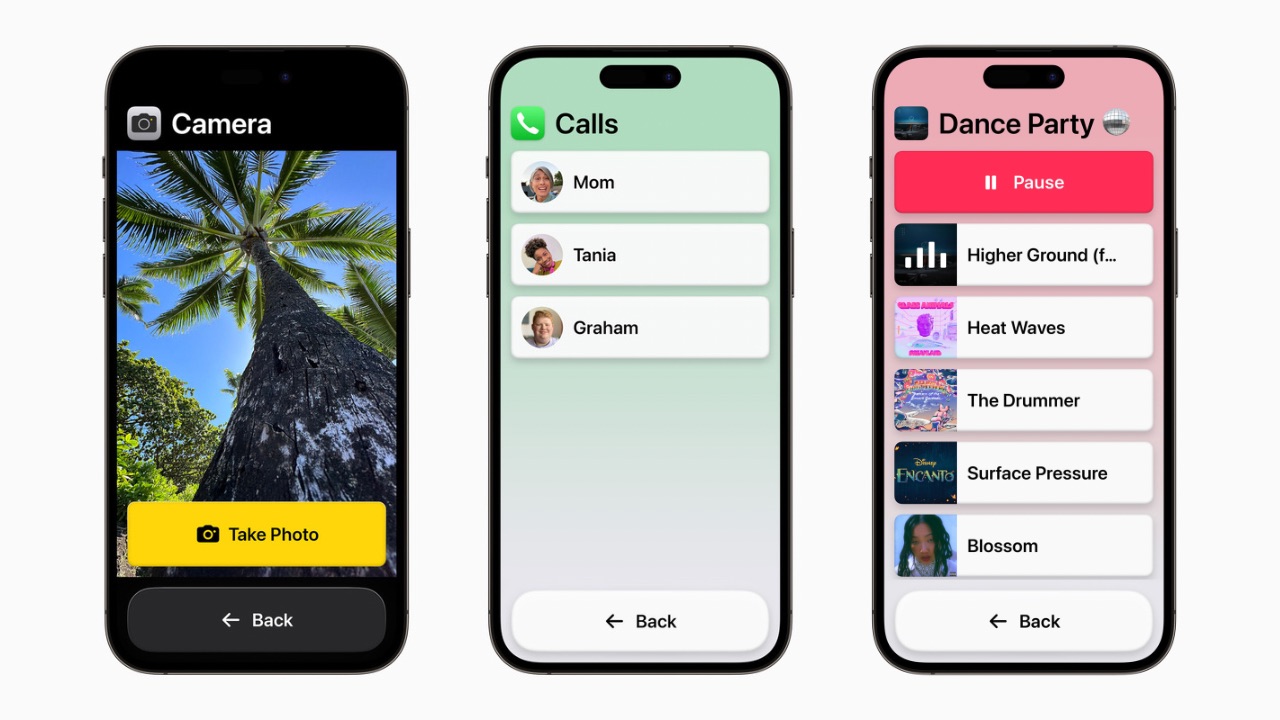 Assistive Access makes apps and experiences simpler and easier to use for people with cognitive disabilities. It enables a special experience for Calls, Messages, Camera, Photos, and Music. The feature offers a distinct interface with high contrast buttons, large text labels, and tools to help trusted supporters tailor the experience for the individual they support.
For example, for users who prefer communicating visually, Messages includes an emoji-only keyboard and the option to record a video message to share with loved ones. Users and trusted supporters can also choose between a more visual, grid-based layout for their Home Screen and apps, or a row-based layout for users who prefer text.
Other additional features
Other new accessibility features being introduced by Apple include:
Deaf or partially deaf users can pair Made for iPhone hearing devices directly to Mac and customise them for their hearing comfort.
Voice Control adds phonetic suggestions for text editing so users who type with their voice can choose the right word out of several that might sound alike, like "do," "due," and "dew." Additionally, with Voice Control Guide, users can learn tips and tricks about using voice commands as an alternative to touch and typing across iPhone, iPad, and Mac.
Users with physical and motor disabilities who use Switch Control can turn any switch into a virtual game controller to play their favourite games on iPhone and iPad.
For users with low vision, Text Size is now easier to adjust across Mac apps such as Finder, Messages, Mail, Calendar, and Notes.
Users who are sensitive to rapid animations can automatically pause images with moving elements, such as GIFs, in Messages and Safari.
For VoiceOver users, Siri voices sound natural and expressive even at high rates of speech feedback; users can also customise the rate at which Siri speaks to them, with options ranging from 0.8x to 2x.