The new Mac Pro comes with a starting price of $5,999 (approx. Rs 4,14,500), while the 6K Apple Pro Display XDR is priced at $4,999.
Apple has announced the launch of its new Mac Pro professional desktop workstation along with new 6K HDR monitor during the Worldwide Developer Conference (WWDC) 2019. The new Mac Pro comes with a starting price of $5,999 (approx. Rs 4,14,500), while the 6K Apple Pro Display XDR is priced at $4,999. All will be available to order in the fall.
Advertisement
Mac Pro
Starting with the Mac Pro, the professional desktop workstation comes loaded with up to 28 cores Xeon processors along with 64 PCI Express lanes for massive bandwidth. The workstation features a six-channel memory slot and 12 physical DIMM slots, which allows for a massive 1.5TB of memory. The new workstation comes loaded with a host of flagship graphics. To start with it starts with Radeon Pro 580X graphics card.
The Mac Pro also comes loaded with Radeon Pro Vega II, which comes 32GB of memory and 1tB/s of memory bandwidth. Furthermore, there is another variant that comes Radeon Pro Vega II Duo, which features two Vega II GPUs for an incredible 28 teraflops of graphics performance and 64GB of memory. Additionally, there are two MPX Modules so that customers can use two Vega II Duos for up to 128GB of video memory.
With the Mac Pro, the company has also introduced Apple Afterburner. This is basically a programmable ASIC, which is capable of decoding up to 6.3 billion pixels per second. With this, video editors can easily convert native file formats into proxies for easy editing up to three streams of 8K ProRes RAW video and 12 streams of 4K ProRes RAW video in real time. Connectivity includes Thunderbolt 3, USB Type-A, dual 10Gigabit Ethernet ports, Wi-Fi 802.11ac, and Bluetooth 5.
6K Apple Pro Display XDR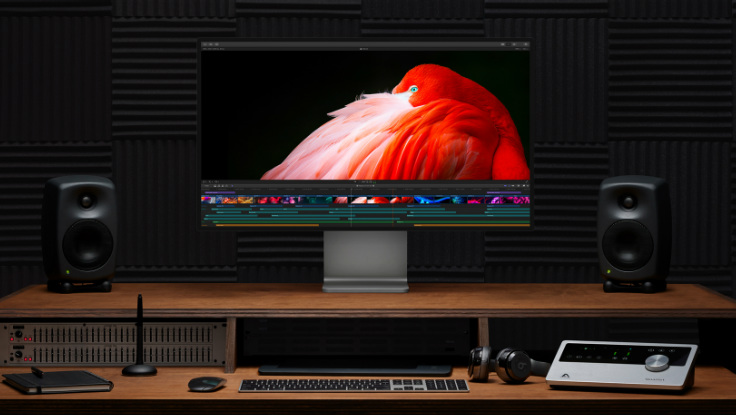 The new display comes loaded with a 32-inch LCD panel with a resolution of 6016 x 3384 Retina 6K resolution. The company claims that the Pro Display XDR display comes with nearly 40 per cent more screen real estate as compared to the Retina 5K display. It comes with a p3 wide colour gamut along with 10-bit colour support.
The new screen uses anti-reflective coating and offers a new matte option called nano-texture, with glass etched at the nanometer level for low reflectivity and less glare. Pro Display XDR uses a direct backlighting system with a large array of LEDs that produce 1,000 nits of full-screen brightness and 1,600 nits of peak brightness. It comes with a contrast ratio of 1,000,000:1. The display comes loaded with the Pro Stand that allows to rotate into portrait mode and it comes with VESA mount adapter as well.