To encourage the Make In India program, Indian Government had announced to increase the import duty on mobile phones from 10 percent to 15 percent, last week. Due to which Apple iPhones are going to get more expensive in the country from December 18.
The company has hiked the price of all iPhone models by an average of 3.5 percent, with iPhone 8 seeing the lowest increase with 3.1 percent and iPhone 6 is highest with 4.3 percent, except for the iPhone SE, as the smartphone is being assembled in India.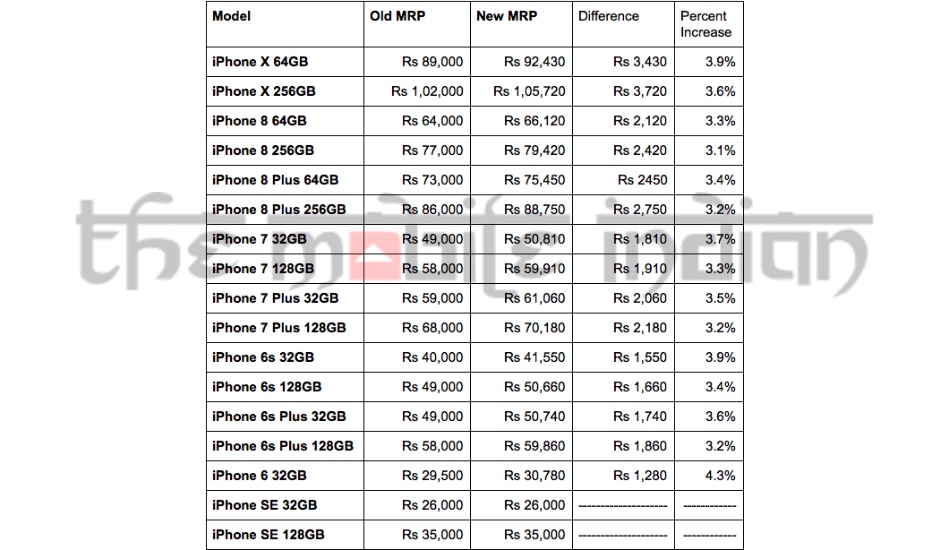 The iPhone X 64GB will now be available at Rs 92,430(Rs 89,000), while the 256GB iPhone X is available for Rs 1,05,720(Rs 1,02,000). The iPhone 8 and iPhone 8 Plus will now be available at starting price of Rs 66,120(Rs 64,000) and Rs 75,450(Rs 73,000). With the increase in 3.7 percent for the iPhone 7 and 3.5 percent for the iPhone 7 Plus, the smartphones will now be available at a starting price tag of Rs 50,810 and Rs 61,060 respectively.
You Might Also Like
Moving to the iPhone 6s and iPhone 6s Plus, the smartphones will now be available at starting a price of Rs 41,550 and 50,740, which was earlier priced to 40,000 and 49,000 respectively. While the iPhone 6 will now be available for 30,780 with the increase in price by Rs 1,280.
Apple is currently manufacturing the iPhone SE model at its Bengaluru facility, due to which the price of the device is not being increased. Further, the increase in import duty will affect all the brands that import phones to India. While the price of the brands such as Xiaomi, Samsung and Micromax will remain the same as they are assembling the devices in the nation, to support the government'sMake In India program.