Andy Rubin, vice president Google, has said in his latest tweet that Google is activating 300,000 Android phones every day. Despite having its fair share of doubters and cynics, Android is fast emerging as a big player in the mobile space.
The Android phones available in India fall in a wide price range of Rs 5000 to Rs 36,000 which means a consumer with a decent budget may find a suitable model for himself (or herself).
Sharp jump in activations
Way back in August, Eric Schmidt had made a statement at the Techonomy Conference that 200,000 Android phones were being sold every day. These figures were disputed by Steve Jobs who indicated may be the company (he didn't mention the name) was also counting upgrade figures in its activations.
New activations, no upgrades
Google later clarified the figures were completely new activations every day. The latest tweet from Andy Rubin removes all the doubt about new activation figures of Android devices. From the revenue point of view, it is believed Google doesn't make money directly on the sale of Android handsets, rather its revenue comes from advertising sales which it also gets similarly through iPhone.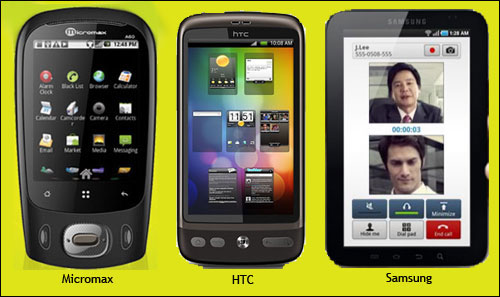 Numerous Android options
In the last year, numerous devices, including tablets and smartphones, have been launched which run on various versions of Android OS.
Motorola's hugely successful Droid sparked off a chain of successful follow up products.
At the same time, HTC was also coming out with successful Android based handsets. The other Android products that came into the market were Galaxy tablet and Dell Streak.
The major Android phones available in India come from Motorola, HTC, Samsung, Sony Ericsson, Dell, LG, Acer, Videocon, Garmin Asus, Spice and Micromax.