Android 3.0 (Honeycomb) is a new version of Android designed from the ground up for devices with large touchscreens, particularly tablets.
Honeycomb will be the first version to get a holographic UI theme (which looks like 3D) and an interaction model that builds on Android's ability to multitask, notifications, widgets, and others.
Android 3.0 is also specifically designed to give developers the tools and capabilities they need to develop apps for tablets and similar devices, together with the flexibility to adapt existing apps to the new UI (user interface) by maintaining compatibility with earlier versions of the platform on other form-factors. This will ensure that users can access existing apps they are used to as well as new ones that will be developed.
Android Honeycomb UI (user interface)
System bar: The new OS will have a dedicated system bar similar to the one on laptops and desktops. It will be located at the bottom of the screen. This system bar will give users straight access to notifications, system status, and soft navigation buttons for Back, Home etc.
Action bar: This is another type of notification bar visible only when an application is running. It sits at the top of the screen and offers quick access to contextual options, navigation, widgets or other types of content.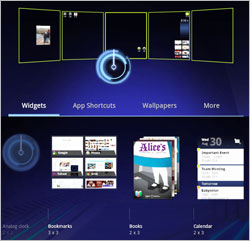 Home screen: The Honeycomb home screen looks different from other versions of Android. There are five customisable home screens, from which it is possible to search apps, contacts, media files, web content etc.
Recent apps: To improve multi tasking, Google has added a Recent Apps function. Accessible through the system bar, it offers quick access to applications currently running on the device. There are thumbnails to help you see what you are selecting.
New keyboard: Google has included a re-designed keyboard for Android 3.0 Honeycomb. The new version is called "Android soft keyboard" and has been designed to make entering text fast and accurate on tablets and other handheld PCs. Google says the keys for the new keyboard have been shaped and positioned to increase typing accuracy. There are some new keys too, such as a dedicated tab button.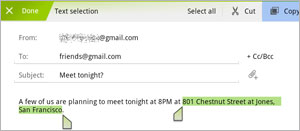 New text selection, copy and paste: Google has also re-designed the text selection system on Honeycomb. Now users can select text by using press-hold and can adjust the selected text by dragging two separate arrows to the desired positions. The new system also lets users select actions such as copy to the clipboard, share, paste, search on the net, or find from the action bar.
Connectivity support: A tablet running Gingerbread can be synchronized to computer or digital camera which is USB connected. Honeycomb also supports USB or Bluetooth keyboards.
Updated applications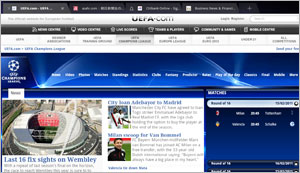 Browser: Google has created a new browser which is very similar to the one used on laptops and PCs with tab support, with incognito (anonymous) browsing, access to browsing history and bookmarks. Multi-touch support has also been added. Google Chrome users will be able to sync bookmarks between their PC and tablet.
Camera and gallery: Google has changed the UI for camera and gallery. Camera mode has controls such as exposure, focus, flash, zoom, front facing camera etc. Gallery has better full-screen browsing.
Contacts app: The new contacts application will utilise two panes and use fast scroll so search is improved.
Email: The email application looks like the contacts app with a two pane user interface that has more information and multi tasking capabilities. It is possible to select more than one message at a time. Using the action bar you will be able to quickly move them all to one folder. Using a sync* function email attachments can be kept away for viewing later. New email apps can be placed on your home screen.
Sync: Sync allows users to share information between two or more devices to keep them updated. This function is generally used to sync contacts, emails etc so that you do not need to sort through the same mails over and over on every device you have. It is also useful as a backup tool.