Every year a new iteration of Android, a mobile operating system developed by Google, is released, and this year Android 13 was released in October 2023. It is based on a modified version of the Linux kernel and other open source software and is designed primarily for touchscreen mobile devices such as smartphones and tablets.
Overall, Android is a very versatile mobile operating system that offers a lot of features and customization options. If you're looking for a powerful and customizable mobile platform, Android is definitely worth considering.
The first batch of smartphones which are getting Android 13 is Pixels Mobiles. No marks for guessing! Other popular mobile brands like Samsung, Nokia, iQOO, OnePlus, Oppo, Realme, Vivo, Xiaomi and more are also likely to roll out Android 13 to their devices is a phased manner, but so far, the majority of them have not shared the timelines. A problem that has plagued the Android ecosystem for a long.
So, why should you look forward to Android 13? It will include a number of new features and changes, including better support for foldable smartphones, 5G networks, and improved privacy controls. It will also bring a number of under-the-hood changes that will improve the overall performance and stability of the operating system.
Other than that, one can explore theming options, Enhanced notifications, Auto-theming icons, Per-app language preferences, System Photo Picker, App drawer in the taskbar and more on Android 13. Let's take a close look at the features of Android 13.
ALSO READ:
Which smartphone brands have shared Android 13 roadmap?
Android 13 Features: Material You
Android 13 brings themed app icons that extend the 'Material You' dynamic colour to all app icons. You can customize non-Google apps to match your phone's wallpaper theme and colours, making your home screen more cohesive and unique to your style.
Photo Picker
To improve the privacy and security of Android users, Google is introducing a new Photo Picker UI. This will allow users to securely share both local and cloud-based photos and videos without needing to grant your app access to their entire media library. The private photo picker comes as an extension to the Document picker UI, which allows sharing of files without granting the apps the permission to view all files.
Improved Privacy
Now in Android 13, you can select only the specific photos and videos they'll need to access. Also, if you copy sensitive data like your email address, phone number or login credentials on your device, Android will automatically clear your clipboard history after a period of time.
Themed App Icons
Android 13 also brings new features and tools for developer productivity. This includes Quick Settings placement API. In addition, users can opt into themed app icons. The icons in supported Android launchers are tinted to inherit the coloring of the user's chosen wallpaper and other themes.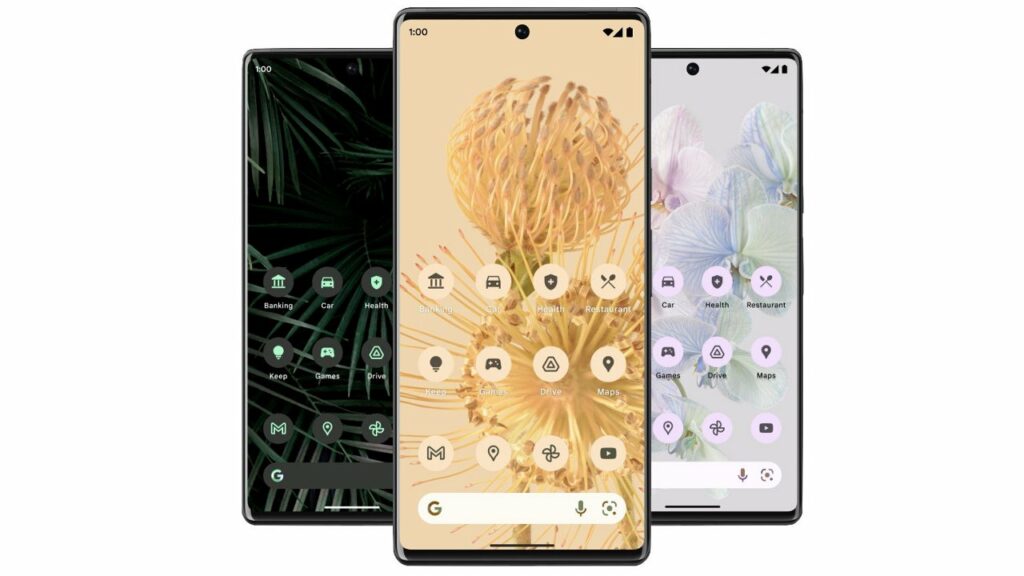 Bluetooth LE Audio
Android 13 adopts Bluetooth Low Energy (LE) Audio, a new Bluetooth audio standard that results in lower latency than classic audio. This allows you to hear audio that's in better sync with the sound's source, reducing delay. With Bluetooth Low Energy (LE) Audio, you can enjoy the enhanced audio quality and broadcast audio to multiple devices simultaneously.
Nearby Wi-Fi Permission
Next, Android 13 introduces the NEARBY_WIFI_DEVICES runtime permission for apps that manage a device's connections to nearby access points over Wi-Fi. The new permission will be required for apps that call many commonly-used Wi-Fi APIs, enabling apps to discover and connect to nearby devices over Wi-Fi without needing location permission.
Improved Media player
The Media player has now been updated with improved visuals. For example, when you're listening to music, the media player spotlights album artwork and has a playback bar that dances as you progress through a song. It even works for media played through Chrome.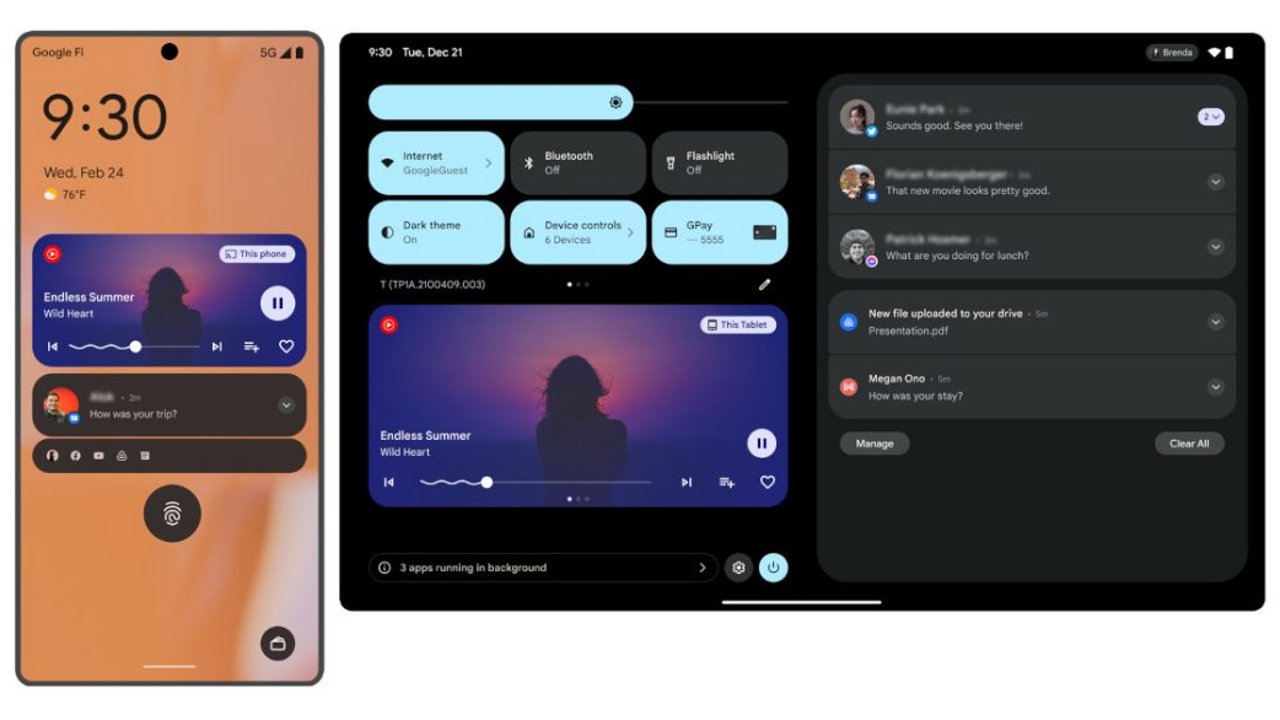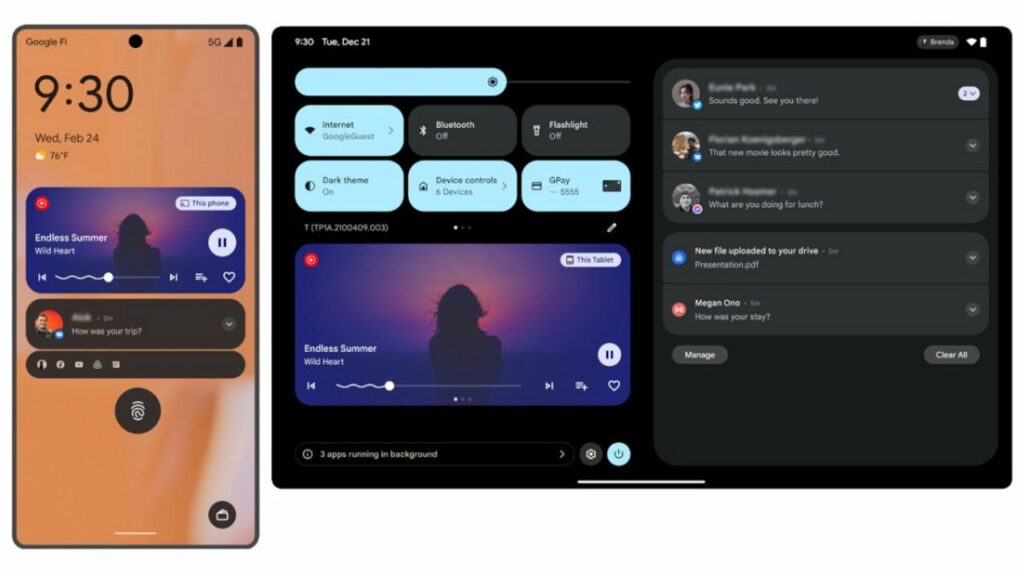 Per-App Language Preference
For the many Android users who speak more than one language, Google has added a new feature request. You can assign specific languages to individual apps so you can keep your phone's system in one language and each of your apps in a different language.
Limited Notifications
The apps you download will now need your explicit permission to send notifications instead of being allowed to send notifications by default. Further, Android 13 has support for Spatial Audio on supported headphones. This Android version also allows you to stream your messaging apps directly to your Chromebook so you can send and receive messages from your laptop.
Updated Taskbar
As for tablets, with the newly updated taskbar, you can see all your apps at a glance and easily drag and drop any app in your library into split-screen mode. In addition, android tablets will register your palm and stylus pen as separate touches. So whether you're writing or drawing on your tablet, you'll experience fewer accidental stray marks from simply resting your hand on the screen.
How to install Android 13?
In case you want to install Android 13 on your phone, follow the following steps

1. If you have a compatible phone and your handset brand has pushed teh Android 13 for your smartphone – check Setting > software

2. If Android 13 shows up there, Just press the download.

Once you've downloaded the update, follow the instructions on how to install it on your phone.
Conclusion
Android 13 is packed with these and many other features, like HDR video support on third-party camera apps, an updated media output switcher, braille displays for Talkback and more. While some handset manufacturers have revealed their update timeline, others have not yet officially shared the list of devices eligible for Android 13. Since Android 13 is available now, so you won't have to wait too long until it reaches your phone.