More than a decade after 9/11, heightened security at US airports has become routine, yet some religious and minority groups say they're unfairly singled out for even more screening.
Some of the high profile cases include recent case of Shahrukh Khan being detained or in an earlier case when our ex president A P J Abdul Kalam being frisked.
While high profile cases like the above are taken up by media and even by our external affairs ministry, common travelers have no one to complain to. To tackle this problem, 'Sikh coalition' a nonprofit community-based organisation that works towards the realisation of civil and human rights for all people, has released an Android and iOS app that will help people report such discriminatory incidents.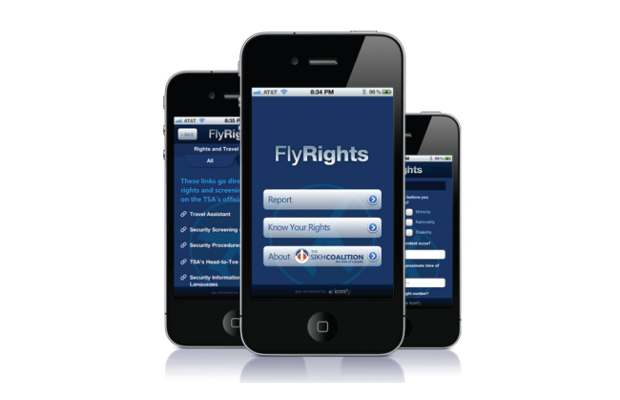 The mobile app is called FlyRights. Travelers, who suspect they have been subject to racial profiled, can use this app to report the incident. Usage of this app is also simple – open the app and answer about a dozen questions. Then hit "submit" and an official complaint will be filed immediately with the Transportation Security Administration of USA.
"The purpose of this phone application is to provide air travelers an easy way to submit a complaint of unfair treatment by airport screeners with the Transportation Security Administration (TSA) and Department of Homeland Security (DHS), and/or
the Sikh Coalition," the NGO said in a statement. The app has already been tested with the TSA.
"The idea for the app came from Sikh entrepreneurs who frequently travel and asked why there "isn't an app for that" when it came to profiling. We then worked with civil rights groups in the Black, Latino, South Asian, and Muslim communities to develop the app, sharing screenshots and soliciting feedback. The NAACP, National Council for La Raza, Leadership Conference on Civil and Human Rights, and South Asian Americans Leading Together, were among the groups consulted. We also shared screenshots and sought feedback from DHS," the Sikh coalition said in the statement.
"It is the Sikh Coalition's intention to give our community the tools to defend their own rights. We're happy to make this app free of charge to ensure that all — Sikh or not — have the ability to make their voice heard," said Sapreet Kaur, executive director, The Sikh coalition.
However TSA denies any kind of racial profiling. "If a passenger is wearing any type of bulky headwear, then they should know they may be subject to additional screening," TSA spokesperson Kawika Riley said to npr.org. "We do not profile based on race; we do not profile based on ethnicity; we do not profile based on religion," Riley added.
Riley says the TSA must try to detect ever more sophisticated weapons – plastic explosives for instance – that can't be seen on x-rays. But he says the agency doesn't want to mistreat flyers.
"We're constantly working to improve our detection technology, our officer's training and TSA's capacity to make the travel experience not just more secure – although that's our focus – but also more convenient for passengers," Riley says.