After offering the Airtel Thanks benefits to its prepaid and postpaid subscribers, Airtel is now extending the same benefits to its 'V-Fiber' Home Broadband users. With the latest announcement, Airtel's fiver broadband users subscribed to the Rs 1,099 plan or higher will have access to Airtel Thanks benefits.
Airtel Thanks benefits to 'V-Fiber' home broadband users will include three months subscription gift for Netflix, one year of Amazon Prime membership with full entertainment and online shopping benefits, access to premium content from ZEE5 and Airtel TV. Users will also be eligible for exclusive benefits from top brands.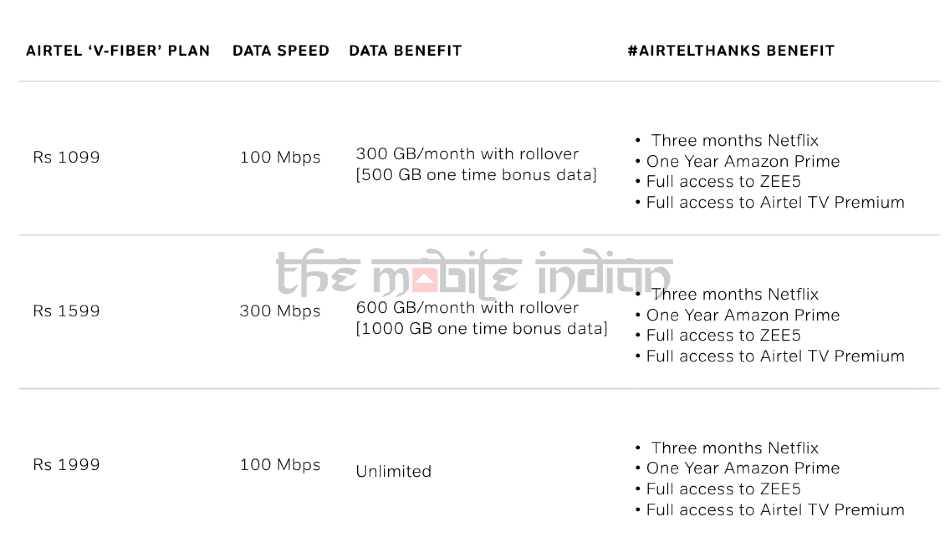 Currently, these benefits are included in monthly subscriptions of Rs 1,099, Rs 1,599 and Rs 1,999. Unlike the different tiers of Airtel Thanks for mobile users, broadband users on any of these three plans will get the same benefits for the course of the benefit period.
Users can also enjoy additional discounts of up to 15 percent when opting the annual rental package and 7.5 percent with the 6 months rental package.
Speaking about the new offer, Bharti Airtel Broadband CEO, George Mathen said "We are delighted to bring some exciting #AirtelThanks benefits to our Homes customers and deliver a truly differentiated experience backed by quality service. Digital entertainment and online shopping are amongst the biggest use cases for Home Broadband and we are now bringing a bouquet of top content and e-commerce platforms to our customers as part of their plans. With this, we Airtel has set a new industry benchmark when it comes to value proposition for the customer".