Affle, a mobile media company, has launched the upgraded version of Pinchmobile messaging platform.
The application will now allow users to chat with friends, find new friends, access locations services and participate in social contests, using their existing data plan or WiFi network without incurring any local or international SMS/MMS charges.
The Pinch upgrade, dubbed version 2.0, also sports a completely new brand identity and a sleeker and unified UI (user interface).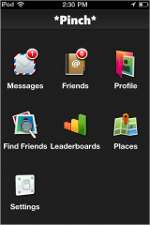 "The latest version of Pinch further strengthens our offerings on the messaging platform and complements our existing product SMS2.0 Live, which has already got us over 20 million downloads in Asia alone," said Anuj Kumar, chief executive officer of Affle.
Through this, Pinch users will now be able to send SMSs and receive messages back in the Pinch environment thus bringing the reach, reliability and robustness of the SMS platform to smartphone messaging. "We are confident that this upgrade will change messaging as it exists today by making cross platform data messaging on phones very popular." Kumar added.
Pinch version 2.0 is available for iOS (iPhone, iPad, iPod Touch) Android, Symbian (Nokia), Blackberry, Windows Phone and J2ME – which means that it will work on both feature phones as well as smartphones.
It can also be used through mobile Internet and SMS, which has been done through partnership with operators.