Adobe has announced six new touch based apps for Android Honeycomb tablets. The announcement came on Monday during the Adobe Max 2011 annual conference in Los Angeles.
The six intuitive touchscreen apps, which are called Adobe Touch Apps, include Photoshop Touch, Collage, Debut, Ideas, Kuler and Proto. These new Touch Apps will be available for Android Honeycomb tablets from November onward at price of $9.99 each.
Adobe plans to support those apps via its Adobe Creative Cloud service. With the new Adobe Creative Cloud initiative, the company aims to offer cloud servers based service for seamless and wireless integration of six Touch Apps and desktop based Creative Suite. You can sync and share creative files across the desktop based Creative Suite and the six Touch Apps for Android tablets.
Adobe demonstrated Photoshop Touch, which allows simple manipulation of images using finger gestures. The core features of Photoshop have been customised for touchscreen based Android Honeycomb tablets for enabling more professional edits of images. A Scribble Selection tool is available exclusively for tablets and allows users to extract objects from an image and remove the rest. All of it is done by simply scribbling on the image.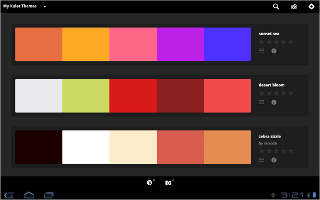 Refine Edge Technology in the apps allows the selection of finer components in an image like hair and other soft edges. The Photoshop Touch app also allows Facebook and Google Search integration. Files created through Photoshop Touch can be shared via Adobe Creative Cloud and eventually opened in Adobe Photoshop for more complex and professional editing.
Adobe Collage allows collating the ideas and concepts on one 'mood board' by adding text, images, drawings and other files. One can import images from Flickr and Google for adding to the infinite canvas for sharing the final version of the files with Adobe Photoshop using the Adobe Creative Cloud.
Designers can use the Adobe Ideas app that allows creating drawings with the help of vectors, layers and different colour themes. When finished, the files can be shared and accessed via Adobe Illustrator or Photoshop for further fine tuning.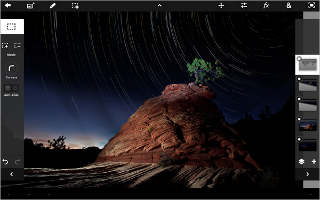 Nothing works better than presenting the designs created using the Creative Suite over on tablet using the Adobe Debut. This touch supporting app allows you to present the designs created using Photoshop, InDesign and Illustrator on Android tablet. While presenting the Debut, users can also add notes or draw on top of design files on an Android tablet.
Adobe Kuler generates various colour themes and enables users to create new ones, explore existing ones and download the final products.
Creating wireframes and prototypes of websites is now possible on the tablet using the new Android Proto app.
All six Touch Apps are developed using the Adobe AIR (Adobe Integrated Runtime) platform and hence Honeycomb tablets. Adobe has also shared its plans to launch these six Touch Apps for the Apple iOS platform in early 2012.