Be it feline photos or nature, the phone's camera has long way to go to compete with a full-fledged camera. That is where desktop based image editing software comes handy to correct the images. Flying Car has developed a new app &#151 Acquire for Photoshop, for the iOS users to help them quickly send their photos to the Adobe Photoshop CS5 software in their personal computers instantly over the air. Even your already clicked photos can immediately be pushed to the Adobe Photoshop CS5 directly.
The new 'Acquire for Photoshop' app uses iOS device's data connection to send the photos from the iPhone to desktop based software. The app uses Adobe Remote Connect functionality feature introduced with Photoshop CS 5. The new Acquire app is meant for those who regularly use Photoshop for image editing or any digital artist.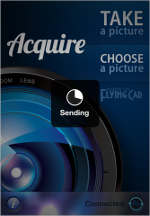 Acquire lets you take a fresh photo and also send existing images to Adobe Photoshop. So you will have to customise the remote connection settings in Adobe Photoshop. Use Adobe apps like Nav, Color Lava and Eazel to enable the remote connection settings for the companion app with Photoshop.
Basically it's just a syncing app that provides a user interface to send images via a specific secured connection to Adobe Photoshop directly. Ideally such app should be free but currently it is available for $1.99 from Apple App Store . This app requires the iOS devices with camera and the ones running iOS 4.0 or higher.