Acer, which has recently introduced world's smallest Windows 8 operating system based tablet, may soon bring a very powerful tablet, according to benchmark results.


As per the results published on the benchmarking application Nena Mark 2, the chipset utilised in the tablet has a 1.8 GHz Nvidia Tegra processor. And considering the older chipset and the recently announced Tegra 4 chipset, we can easily tell that it is none other than the Tegra 4 chip that the Acer's new tablet has been bestowed with.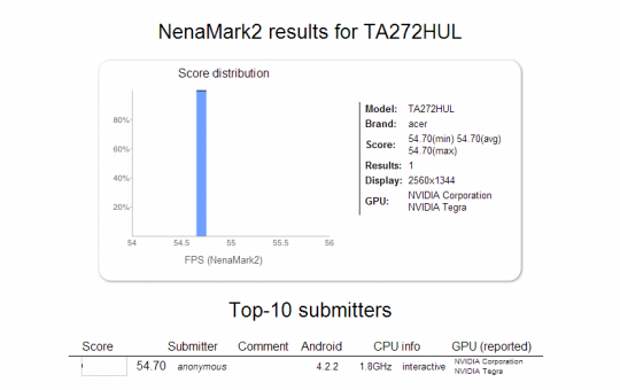 Along with that the tablet is expected to be featuring a 2 GB of RAM and a great 2560 x 1344 pixel resolution based display that surpasses the resolution on the Apple iPad's retina display which stands at 2048 x 1536. With Nvidia's new age graphic processor housed inside this much superiority is expected.
Well nothing more can be said as of now but we can surely hope the product to be exciting and the information to be revealed in the coming few months.