Acer has launched two versions of its Iconia tablets with a bigger 10.1 inch screen size. While the Iconia A500 features the Android Honeycomb 3.0 operating system, the Iconia W500 has Windows 7 OS in it.
While the Android version's price is kept at Rs 27,990, the later would cost Rs 32,499 respectively.
Acer has now a total of five products in the Iconia range in India including the iconic dual screen Iconia tablet, the 7 inch Iconia A100 Android tablet and the Iconia smart S300 Android smartphone with the 4.8 inch touchscreen, whose details on price and availability will be announced by Acer soon.
The Iconia A500 is based on Nvidia's Tegra 2 dual core processor running at 1Ghz with a 1GB DDR2 RAM. The A500 will be available in two different storage sizes of 16GB and 32GB. The tablet will have a 5 megapixel rear camera for video and imagery while the frontal 2 megapixel camera can be used for video conferencing.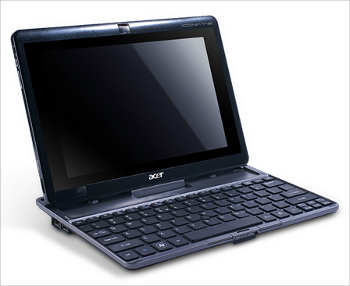 While the Iconia W500 will feature Windows 7 Home version working on AMD's all new C-50 dual core CPU running at 1 GHz along with ATI Raedon HD 6250 graphics engine. The W500 gets a 2 GB DDR3 RAM and will come in a 32GB storage space version.
The W500 will so get a portable docking station that will add a full sized keyboard, a track pint like the once found on the IBM tablets and a few ports including a LAN and a few USB ports.
Apart from these, both the tablets share the same features.
With this, Acer Iconia became the first Android and the first Windows 7 based tablet to hit Indian market. The company aims to start the sales in all the cities across India soon with product being available across all major Acer and franchisee outlets.