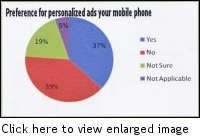 The mobile subscriber base in India has crossed 500 million but the market is still nascent as far as mobile advertising and marketing is concerned. Most marketers in the country are trying to understand the medium and gauge its impact as a media platform. Most of them are testing the mobile media industry by allocating a small share of their overall advertisement expenditure to this area.
According to the global organisation, Mobile Marketing Association (MMA), the current size of the mobile marketing industry is approximately Rs 125 crore in India and it is expected to reach Rs 350 crore in the next two to three years.

Rohit Dadwal, managing director, MMA, tells Telecom Yatra, "We have seen brands and agencies alike come up the value chain over the past several years, starting from the initial days of SMS lead-based campaigns and contests to targeted SMS pushes, WAP (mobile internet) sites, branded and ad funded content and mobile advertising. Due to its availability in multiple languages and access into rural India, SMS and voice advertising will only serve to bring new advertisers who have barely tested the waters on board. It's an affordable and targeted medium that can carry a campaign on its own or support traditional media campaigns."
The USA-based mobile consulting, market research and technology strategy firm, CellStrat, has conducted a survey on mobile media and its future in India. The 'CellStrat Annual India Gen-Y Mobile Media Survey' determines patterns and trends in young Indian audiences with regard to mobile media and marketing. For this, the company has surveyed 5,000 students, young working professionals and housewives within the age bracket of 18-40 years across India. The survey was conducted between October and December 2009 and was released recently.
The survey shows some interesting trends. It says that 37 per cent of the respondents were interested in receiving customised ads on mobile according to their preferences, while 39 per cent were not interested in receiving any such ads. Another finding says that 71 per cent of the respondents felt that if freebies such as free calls, SMS or ring tones are given for viewing ads, the mobile advertisement concept will work.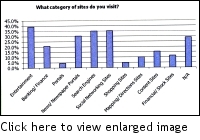 The survey also throws light on the growing usage of mobile internet, and shows that 42 per cent of the interviewees were using mobile web and the most popular categories amongst them were entertainment, news, social networking, search engines and finance. Out of these users, about 40 per cent were using mobile web for entertainment, about 35 per cent each were using it for search engines and social networking sites, 30 per cent for news and about 20 per cent were using it for banking and finance.
Another point that the survey makes is that the majority, around 63 per cent of respondents, are in favour of permission-based marketing rather than push-based marketing. The latter is only acceptable to 3.2 per cent of the surveyed audience. Moreover, about 12 per cent of total users said that they want neither push-based nor permission-based marketing. To get an advertiser perspective, we spoke to Hewlett-Packard (HP) India, which has been doing mobile marketing for some time now. The company had undertaken a campaign called 'Your notebook tells your story' around its tagline, 'The computer is personal again'. Another one was done for students during June-July 2009, where the company was giving away free Tata Photon data cards with Compaq computers. HP promoted the students offer via Bluetooth marketing (Bluecasting) at coffee shops and other students' hotspots.

Shubhodip Pal, head marketing, consumer personal systems group, HP, said, "Mobile marketing is the most responsive medium ever so far. We get a unique identity of the customer. Because of the options we give to our customers, they give us responses and thus it is very interactive and personal. From the data that we get, we can find out the preferences of our customers and we can also check who is responding and who is not. This is typically for both promos and new launches." Commenting on whether this medium will grow in the coming times, he says, "Definitely, as the base is very wide with about 500 million mobile phone subscribers as compared to 50 million internet users. We can target the customers and pick up handsets by consulting telcos."
However, there are some fundamental challenges that hinder mass usage of content on mobile phones. These include lack of knowledge among users, mobile browser constraints leading to poor content quality and experience and the data charges associated with the use of internet over the mobile. There is also is a lack of guidelines that marketers should adhere to that may also lead to the risk of mobile phone spam and consumers losing trust in mobile marketing.