Microsoft's Windows 8 operating system is touted as the most important launch since Windows 95. The OS is a complete redesign of the Windows operating system and comes with better touch functionality than its previous version as well as a Windows Phone inspired user interface that makes it suitable for mobile devices, and that is probably the reason there are more tablets planned to be launched that anything else based on this new platform.
AS many as 20 tablets and hybrids (tablet cum netbook) are lined up for launch when the Windows 8 formally gets launched by Microsoft at the end of this month. The hybrid devices with detachable or concealable keyboards make them function like a tablet as well as laptop based on the need.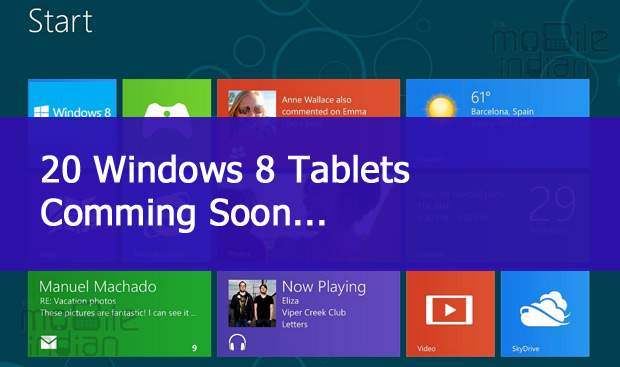 Most of these tablets that we are talking about here, will also be launched in India as these tablets will be the dominant form factor and all these players have big presence in India.
Here is a look at how these tablets can change the face of the tablet market. Most of these tablets have already been announced.
###PAGE###
Lenovo
Lenovo has the biggest lineup of Windows 8 tablets with as many as five tablets that includes the IdeaPad Yoga 11, IdeaPad Yoga 13, IdeaTab Lynx, ThinkPad Twist, and the ThinkPad Tablet 2.
IdeaPad Yoga 11
IdeaPad Yoga 11 is the company's first hybrid laptop/tablet with an ARM processor and Windows RT – a version of Windows 8 for ARM devices. The device has an 11.6-inch touchscreen that flips to become a tablet. The device weighs 1.27 kg, offers 13 hours of battery life and will become available in December starting at US$799 (Rs 42,200).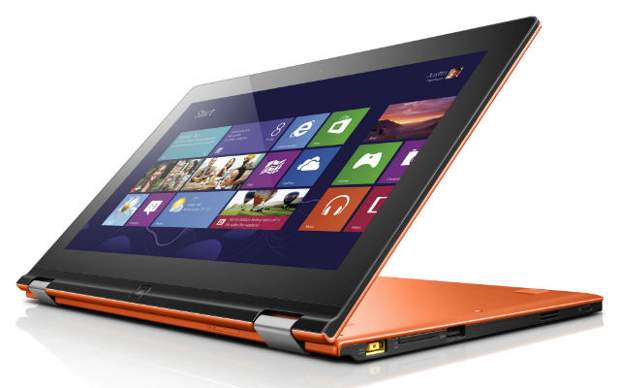 Windows RT is the version that will run on ARM based processors and will not support legacy Windows apps and will be lighter and more mobile centric. Microsoft has already announced an Office version for this tablet.
###PAGE###
IdeaPad Yoga 13
The Yoga 13 will have a 13.3-inch screen and weighs 1.5 kg. It will come with Windows 8 (not Windows RT) and has Intel's Core processors based on the Ivy Bridge microarchitecture. The Yoga 13 offers a battery life of eight hours and will become available for $1,099 (Rs 58,000).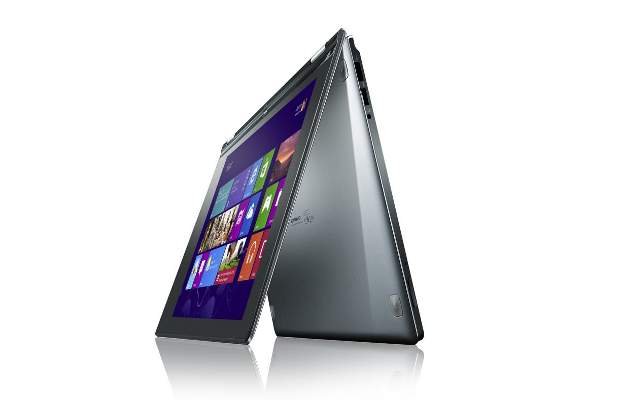 It has the same design as the smaller Yoga 11 which allows users to use it either like a laptop or a tablet based on the their requirements.
###PAGE###
IdeaTab Lynx tablet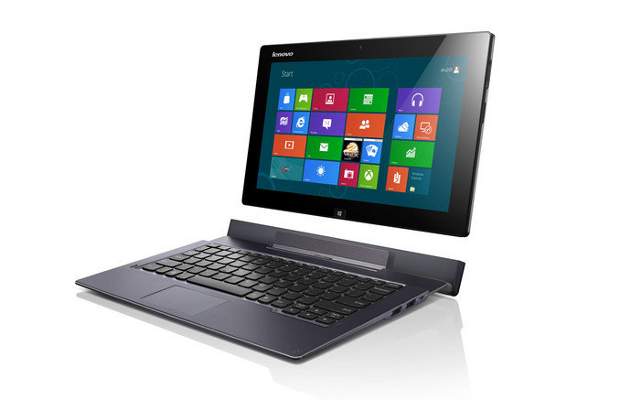 IdeaTab Lynx tablet comes with a 11.6-inch screen, Windows 8 and a dual-core Intel Atom processor code-named Clover Trail is a pure tablet and only weighs 640 grams and offers 16 hours of battery life with an optional keyboard dock. The device will become available starting at $599 (Rs 31,600), with an optional dock priced at $149 (Rs 7,900). The Lynx will, however, go on sale starting in December.
###PAGE###
ThinkPad Twist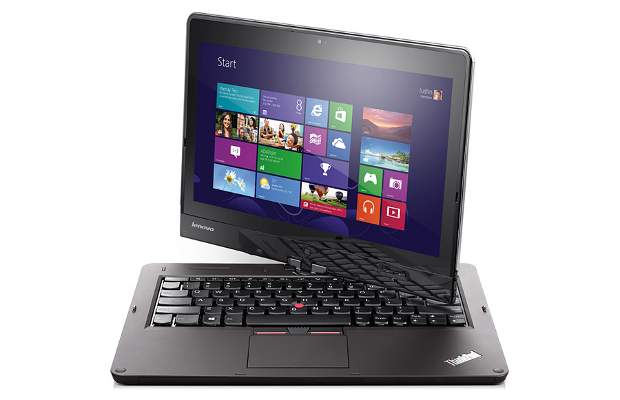 ThinkPad Twist is an ultrabook that turns into a tablet after the screen is turned around and placed over the keyboard. The convertible weighs 1.58 kilograms and comes with a 12.5-inch screen. The convertible tablet will come with Windows 8 Pro and an Intel Core processor code-named Ivy Bridge, and will sell for $849 (Rs 44,900).
###PAGE###
ThinkPad Tablet 2


ThinkPad Tablet 2 will be a more traditional tablet design with 10.1 inch screen and Intel's Atom processor. It is priced at $649 (Rs 34,300). It will deliver between eight and 10 hours of battery life, and a detachable keyboard will be sold separately.
###PAGE###
Asus
Asus has lined up three Windows 8 tablets including the Vivo Tab RT, Vivo Tab and Asus Taichi.
Asus Vivo Tab RT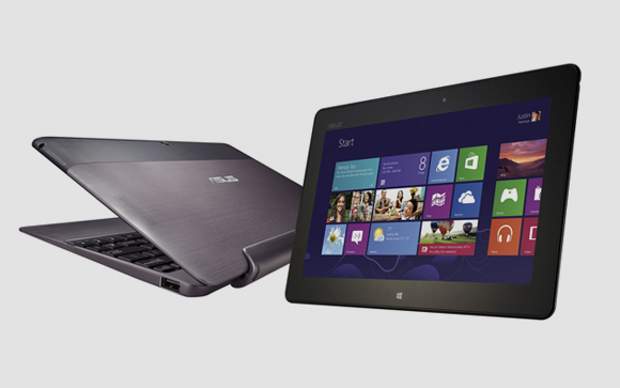 As the name suggests, it is based On Windows 8 RT and is also the cheapest in the lineup priced at US$599 (Rs 31,600). The tablet will feature an Nvidia Tegra 3 quad-core processor, a 10.1-inch "Super IPS+" display which is also available in Asus Transformer Prime, 32 GB of internal storage and will come bundled with Windows RT and Office 2013.
###PAGE###
Asus Vivo Tab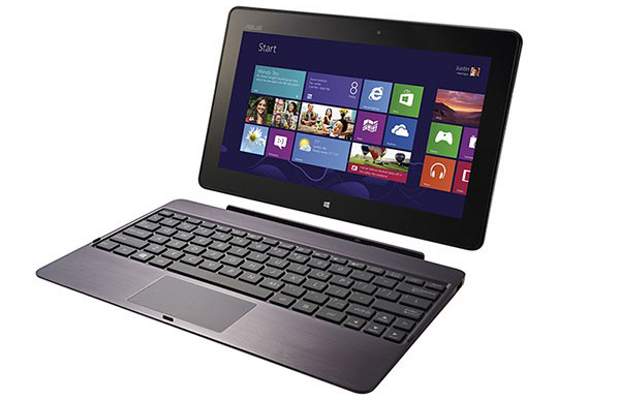 Vivo Tab will be powered by an Intel Atom Z2760 and run the full-featured Windows 8 on a 11.6-inch screen and is priced at $799 (Rs 42,200). The tablet will come preloaded with Microsoft Office trial. This tablet is expected to have 64 GB of internal storage.
###PAGE###
Asus Taichi
Taichi looks like a standard ultrabook with an 11.6-inch touch screen when in laptop mode. However, closing the laptop activates another 11.6-inch touchscreen on the back of the panel, turning the hybrid device into a tablet.
The Taichi will ship with Windows 8, and the screens can display images at a 1920×1080 pixel resolution. There will be two versions of the tablet – the Taichi 21 DH51 with an Intel Core i5 processor and 128 GB solid-state drive storage and the Taichi 21 DH71 with a Core i7 processor and 256GB SSD storage.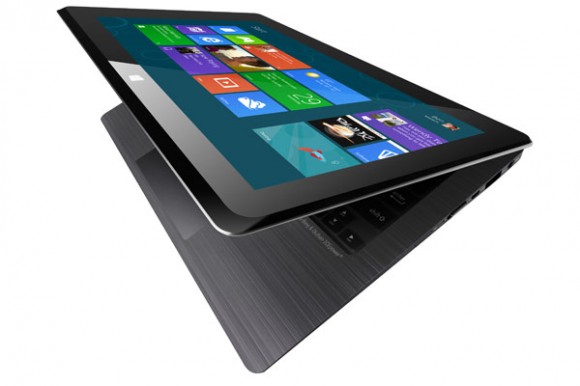 The laptop tablet hybrid is priced at US$1299 (Rs 68,600) for the Intel Core i5 version while the Intel Core i7 version is to cost US$ 1599 (Rs 84,500).
The hybrid models will offer up to five hours of battery on a 6-cell battery. Also, it has 4 GB of RAM, Intel integrated graphics, WiFi and Bluetooth.
The laptop has a micro-HDMI port and two USB 3.0 ports. The Taichi weighs about 1.27 kilograms and also has a 5-megapixel webcam.
###PAGE###
Samsung
Like Asus, Samsung has also lined up three Windows 8 tablets in the form of Ativ Tab, Ativ Smart PC and Ativ Smart PC Pro.
Samsung Ativ Tab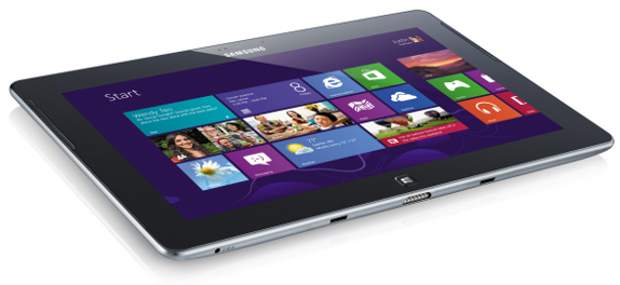 Ativ tab is based on Windows 8 RT operating system and has a 10.1-inch touchscreen, 8.9 mm thickness and weighs 570 grams. The Ativ Tab is powered by a 1.5 GHz dual-core processor and features a 5 megapixel autofocus camera with LED flash at the back and a 1.9 megapixel front-facing camera. It has NFC using Bluetooth or WiFi. It has 2 GB RAM, 32 GB of user memory, expandable memory of up to 64 GB and comes with a 8200 mAh battery. The tablet is expected to be priced at US$ 741 (Rs 39,100).
###PAGE###
Samsung Ativ Smart PC
The Ativ Smart PC is based on Windows 8 and uses Intel Atom Clover Trail. It has 2 GB of RAM, 64 GB of storage space, micro SD slot for additional expansion, 2 megapixel camera in the front and a 8 megapixel at the rear.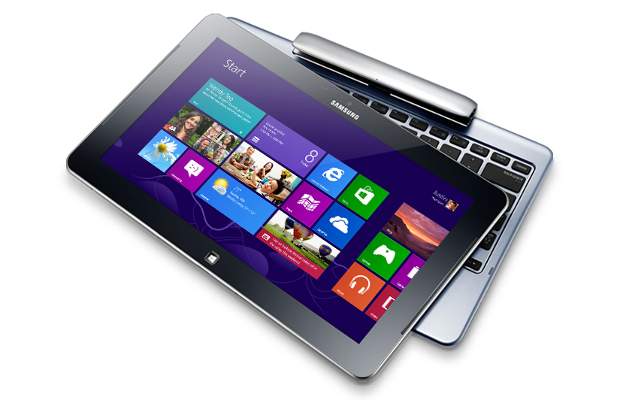 The 11.6 inch display has 1,366×768-pixel-resolution, and will also get LTE connectivity along with WiFi and Bluetooth 4.0. As a standalone tablet it has 9.9mm thickness and 750 grams of weight while when attached to the clamshell keyboard it has 19.9mm thickness and weighs 1.48kg. There is no pricing announcement yet but it is going to be costly nonetheless.
###PAGE###
Samsung Ativ Smart PC Pro
The Windows 8 powered 11.6-inch Samsung ATIV Smart PC Pro comes with more powerful Intel Core i5 processor. Like the Smart PC, this one too features a detachable keyboard-docking system. Both the Smart PC and Smart PC pro will come with S Pen which we have already seen on Samsung Note devices. ATIV Smart PC Pro is 11.9mm thick and features USB 3.0, mHDMI, mini SD and two extra USB 2.0 ports on the keyboard. The battery back up claimed is up to eight hours. No pricing indication yet though.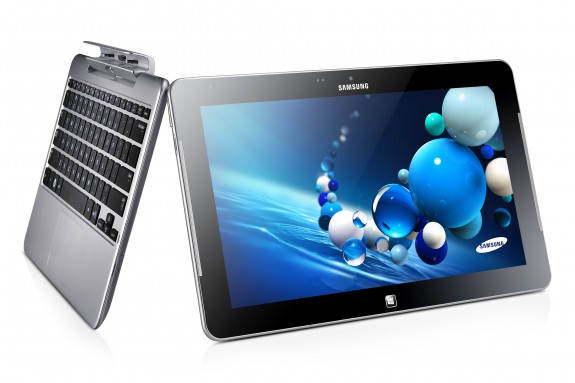 Except for the processor, both the devices are very similar in terms of other features like screen resolution, camera and storage.
###PAGE###
Acer
Acer has announced two Windows 8 tablets with its Iconia W510 and W700.
Acer Iconia W510
Like other Windows 8 tablets this one too is a convertible. It has a 10.1-inch HD display with 10-point touch and Corning Gorilla Glass 2. The processor is the mobile-optimised Intel Atom Z2760. In the tablet mode, it allows 9 hours of usage.
The tablet works in three different modes, the first one is tablet mode. When attached with the keyboard, which also has in-built battery, the tablet comes into "Performance Mode" that extends its life to 18 hours.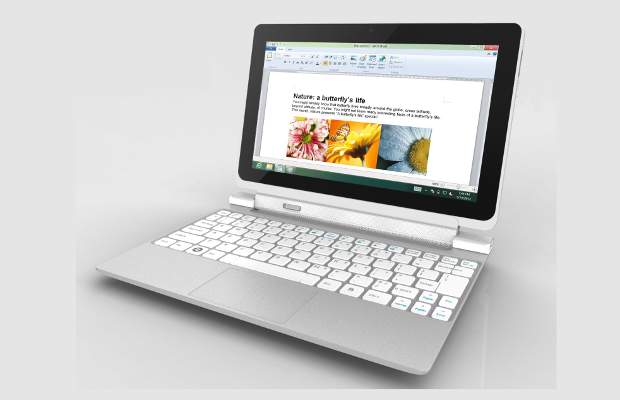 The third mode makes it slightly different from other Windows 8 tablets where the keyboard dock rotates 295-degrees which makes it convenient to display videos, slideshows or presentations. There are two stereo speakers with HD audio support for good sound output. The W510 comes with both 32GB and 64GB storage options along with micro SD card reader, micro-USB port and a full-sized USB. The tablet also gets WiFi and a micro HDMI port.
The 64 GB version of the tablet with the dock is priced at $750 (Rs 40,000) while the 32GB version without dock is priced at $499 (Rs 26,400) making it the cheapest Windows 8 tablet announced till now.
###PAGE###
Acer Iconia W700
The Iconia W700 comes with a 11.6 inch screen and offers the option of two 1.7 GHz Intel Core i5 based versions and a 1.8 Ghz Core i3 powered version priced between $799 (Rs 42,200) and $999 (53,000).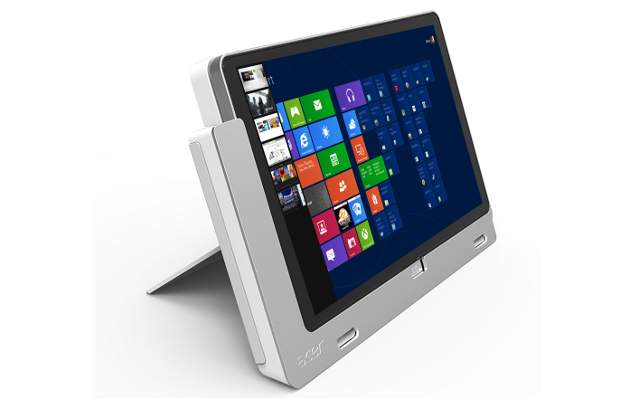 Acer's Windows 8 tablets are designed to be full-powered computers in addition to portable devices, each boasting the ability to power three independent displays, and shipping with a cradle designed to hold the tablet at a variety of angles and orientations. They all come with sensors, including an electronic compass, gyroscope and accelerometer, and manage a cold boot in just six seconds, according to Acer. A Bluetooth keyboard will make things easier for those who don't like touchscreen typing, and there's a Micro-HDMI to VGA adapter and protective case in the box.
The tablet comes with 4 GB RAM, 5 megapixel rear camera and option of 64 GB and 128 GB storage option.
###PAGE###
HP
HP has announced only one Windows 8 tablet so far, called Envy x2, It has a 11-inch tablet that comes with a keyboard dock, which is quite common. However, it has some higher-end features including an aluminum build, NFC, pen support, Beats Audio and a 400-nit, IPS display.


The tablet itself measures about 8.5mm thick, and unlike other tablets, it combines magnets and a mechanical latch to keep the tablet from falling out of its dock.
The tablet runs on Atom-based Clover Trail processor. It has two USB ports, HDMI output and a micro SD slot. There is 8-megapixel rear camera and 64 GB of built-in storage too. The price has not been announced yet.
###PAGE###
Sony
Sony has unveiled two Windows 8 devices but one of them – the Sony Tap20 – comes with a 20 inch screen which is too big to be called a tablet. The other one called the Sony Duo 11 slider features an 11.6 inch, 1080p touchscreen display with support for pen input, 4 GB of memory, a 128 GB solid state disk, and an Intel Ivy Bridge processor with a choice of Intel i3 or i7 chip. The tablet is priced high at $1100 (Rs 58,000) and above.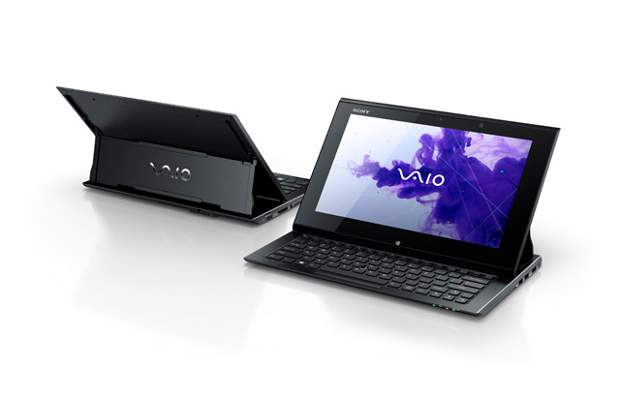 The slider mechanism which reveals the backlit keypad underneath is what makes the tablet unique. There is also an accompanying pressure-sensitive digitiser stylus for writing, sketching or drawing on the touch panel, something that is also available with some other tablets like Samsung Ativ.
The tablet has NFC, WiFi and Bluetooth connectivity and also offers ports like USB and HDMI; external monitors can also be attached through its VGA port.
###PAGE###
Toshiba
Toshiba Satellite U925t tablet
The Toshiba has launched just one tablet in the form of Satellite U925t which comes with a 12.5 inch, 1366 x 768 pixel IPS display. It's fingerprint resistant, supports multi-touch input, and has a Gorilla Glass scratch-resistant panel.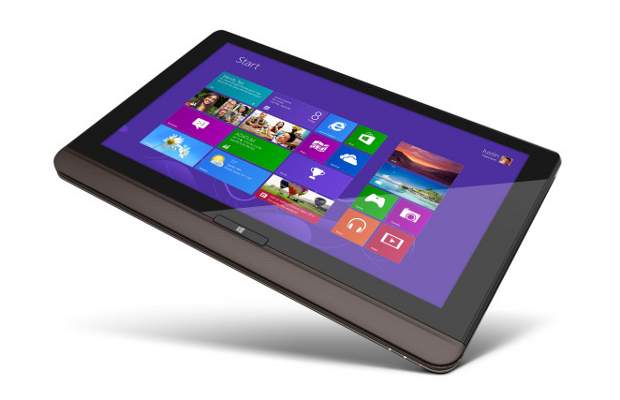 The tablet is priced at $1150 (Rs 60,800) for a model with an Intel Core i5-3317u CPU, 4 GB of RAM, and 128 GB of solid state disk. The tablet features 802.11b/g/n WiFi, Bluetooth 4.1, two USB 3.0 ports (including 1 with sleep and charge), and an HDMI port. There's also a keyboard docking station with a backlit keyboard and click-pad. Toshiba would also offer a version of this tablet with a Core i3 CPU.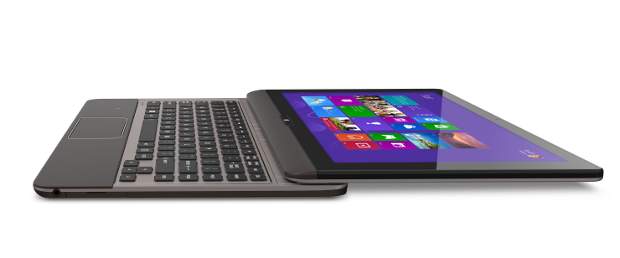 The tablet comes with a autofocus 3-megapixel camera on the back side while a lower-resolution camera in the front.
###PAGE###
Dell
Dell has launched just one tablet-laptop convertible with its Dell XPS 12, which boasts a 1920×1080 resolution on a 12-inch screen protected by Corning Gorilla Glass. It converts rather into a fully-functional tablet through a very interesting hinge design.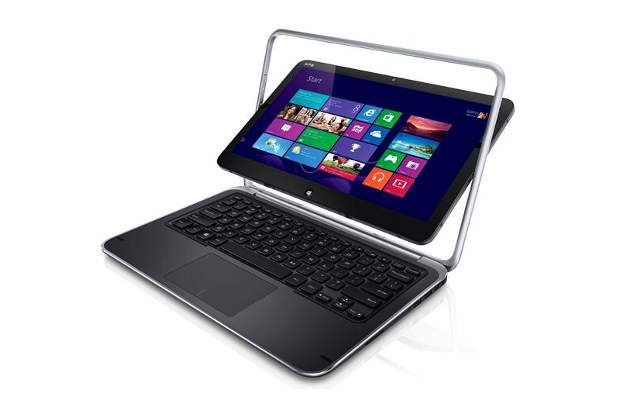 The XPS 12's price starts at $1,199 (Rs 63,300) and comes with 3rd Generation Intel Core i5-3317U processor, 4 GB Dual Channel DDR3 RAM. Intel HD 4000 video card, and 128 GB of SSD.
The screen rotates 180 degree in its hinges that enables the device to be used as a laptop or a tablet.
###PAGE###
Microsoft
In a surprise move, Microsoft itself launched two tablets called Surface tablet, one with Windows 8 and the other with Windows 6 RT operating system. Both the tablets will come with a special VaporMg casing. The VaporMg process basically intends to take selected materials and mold the metal components to make it as thin as possible finish on the chasis. At the back, the Kickstand is attached to the body of the Surface tablet and does not add to the weight or thickness.
Surface RT
Surface RT is the Windows 8 RT sporting version of the Microsoft Surface tablet and comes with a 10.6 inch touchscreen with 1280×720 resolution, an Nvidia quad-core Tegra 3 processor, and up to 64 GB storage.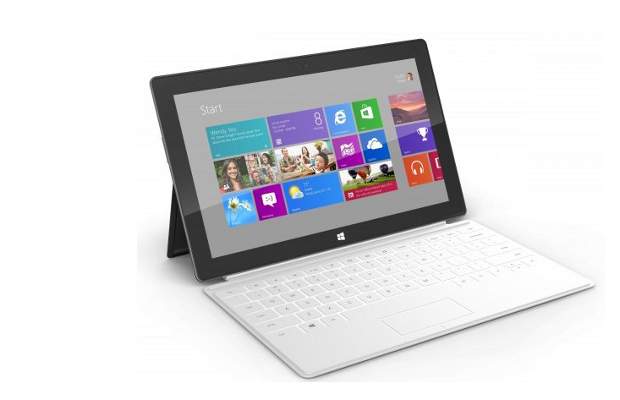 The biggest USP of the tablet is its razor thin foldable keyboard that looks more like iPad cover and will comes in a variety of colours. Microsoft has not announced the pricing as of now.
###PAGE###
Microsoft Surface Pro
The Surface Pro will be the one that will come with WIndows 8 operating system will be powered by 22nm fabrication manufacturing process made Intel Core i3 Ivy Bridge chipset. This Surface tablet has a 10.6-inch touchscreen and will have host of features like USB 3.0 port, mini display port along with storage space which could be between 64 GB and 128 GB.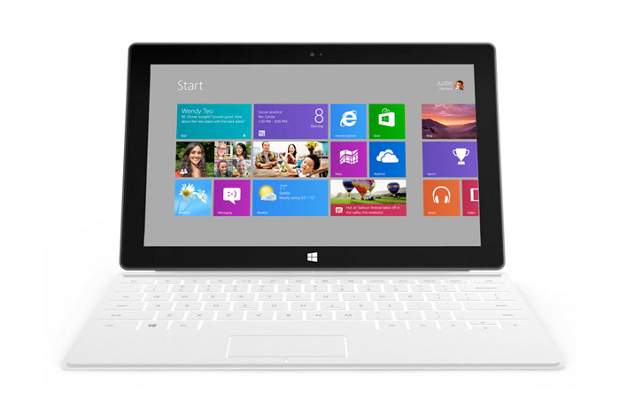 It will also carry a 42 Watt hour battery to power the tablet which is 13.5 mm thick. It will have a similar thin keypad cover as the Surface RT. The pricing has not been announced for this version too.
###PAGE###
Fujitsu
Fujitsu is reportedly have three Windows 8 tablets under its belt. However, it has fully disclosed only one – the Fujitsu Stylistic Q702.
Fujitsu Stylistic Q702
Fujitsu Stylistic Q702 is a tablet with a keyboard dock which is somewhat standard in the Windows 8 devices that has been announced till date. Stylistic is based on powerful Intel Core i5 processor and runs Windows 8. It has 11.6 inch multitouch screen and also gets a pen stylus which is similar to Samsung's S Pen and is included in the dock. A Core i3 version of this tablet is likely to be launched later.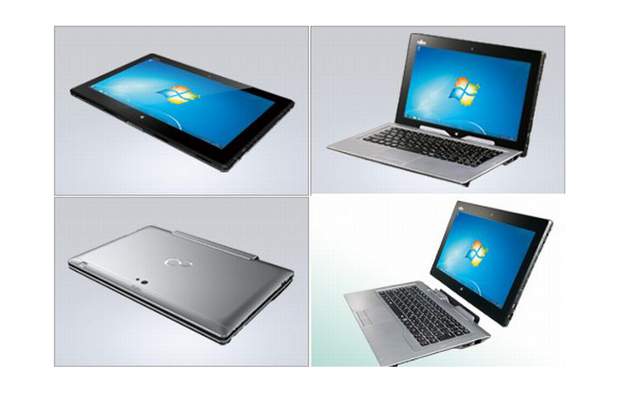 The tablet offers only four hours of battery life which gets expanded to 9.5 hours with the keyboard dock. The dock also has a power connector, VGA connector, two USB 2.0 ports, and a gigabit ethernet port. The dock itself weighs about 800 grams, the combination of dock and tablet comes to about 1.65 kilos. The camera at the rear is a 5 megapixels.
###PAGE###
Another Fujitsu tablet
Fujitsu Arrows is another tablet that was showcased in Japan recently. The tablets main feature is its waterproof nature. Besides, it will come with a 10.1 inch screen, front and rear cameras, a micro-USB port and a micro SD card slot.
Fujitsu has teased another Windows 8 tablet which is 8.5mm thin and is lightweight tablet. It is powered by Intel's 32 nanometre Clover Trail chipset, and will run Windows 8 rather than Windows RT.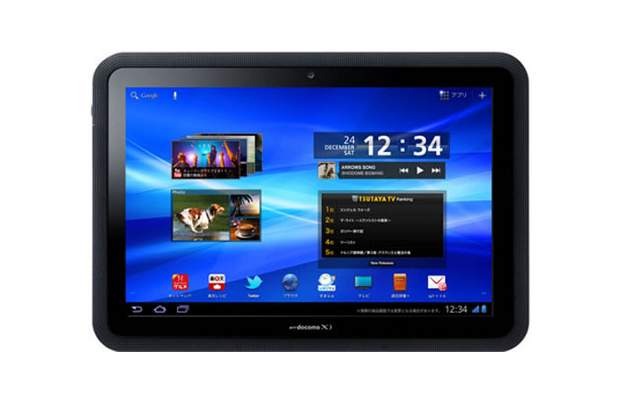 The features include front and rear cameras, a micro SD card slot, micro USB port and a proprietary 10-pin charging port, while the display measures 10-inches with a 16:9 aspect ratio, there is no hint of a keyboard dock though.
The company will release this tablet on October 19th even before the Microsoft event. No price indications are available though.