Google Plus social network is accessible through smartphones, but only on Android or iOS devices. People using normal Java based mobile phones need not feel disappointed though because Google Plus also supports posting via SMS. This facility also comes handy when the data connection is not that great and you need to share something important.
Before getting started, you need to add your mobile phone number to the Google Plus account in Settings (hyperlink: https://plus.google.com/u/0/settings/plus?tab=X8 ). Enter the verification code and select SMS to receive Google Plus updates as text messages on your mobile phone. Just below that, you can set up a six character alpha-numeric pin for the security of your SMS.
Getting started
All the posts are shared with your friends by default whom you have added to the Circles. All SMS messages are to be sent to +919222222222. Do note that standard SMS tariffs are applicable.
Share messages with specific Circles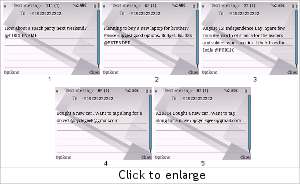 After typing the text message you need to mention the name of the circle (Friends, Family, Office etc.) with whom you want to share the message. By default all posts are shared with all the friends in your Circles.
Share posts with extended Circles
Your Extended Circles are the friends of your friend(s) who will be able to see the message posted by you and can respond to it.
Make a post public
By default all the posts are visible to everyone in your circle. You can always make a post visible by anyone and that can be listed by the search engine. In that case, just add @Public at the end of your post.
Sharing posts with specific people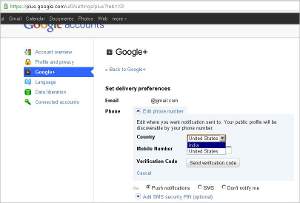 When a post is meant for a specific individual you know, you need to type the email address of the person.
Secure posting
The SMS security number protects you from getting your SMS spoofed by a hacker or malicious program. Besides that, the PIN prevents others from posting defamatory content using your device or number.
Figure 5
The Google Plus number can be reached by most mobile service networks, but we'd recommend you to watch SMS volumes.